Still waiting for warmer weather and feeling the blues? Brighten up your mood with the trendy color of the season. Tranquil turquoise designs are all the rage this spring. Adding this blue-green hue into your collection is the perfect way to leave the winter blues behind and get ready for spring.
There are so many ways to incorporate this tranquil hue into your DIY jewelry collection. To help you find the perfect piece, we at AllFreeJewelryMaking have compiled a list of some of our favorite turquoise projects. Find the right project for you in this cool hue with these 10 DIY projects.
DIY Earrings
DIY earrings are a simple way to add a dash of color to any outfit. For a sleek modern look, try out these Contempo Turquoise Earrings. The touch of turquoise in these DIY earrings will add a nice, subtle pop of color to your outfit. This fresh take on dangle earrings is an easy and understated way to add DIY turquoise jewelry into your collection. For a little more funky flair, try out a pair of Southwest Spirit Turquoise Earrings. With their rich turquoise and brown hues, these homemade cluster earrings add a stylish dash of southwestern style to an outfit.
Homemade Bracelets
On the hunt for an accent piece to add to your jewelry collection? Learn how to make this Chunky Turquoise Bracelet. Turquoise stones are widely available, so you won't have to break the bank to get this organic and eye-catching accessory. Still if you aren't quite sure where to get turquoise stones, you can make your own beads that look like real gemstones with this Matrixed Turquoise Bracelet tutorial. Learn how to make polymer clay beads using the "lace cane" technique to get the same crackled, earthy effect.
DIY Necklaces
Another way to try out turquoise jewelry is with a homemade necklace. This Turquoise Triangle Necklace is for the down-to-earth girl who still likes to keep it sophisticated. Another option is a Braided Seed Bead Necklace. This is one of our favorite free seed bead patterns. This chic homemade necklace is a very fashionable design that's easy to put together. Still haven't found the right DIY turquoise necklace for you? You can also try the two fabulous patterns below:
–Super Easy Turquoise Necklace
–Earthy Wood and Turquoise Necklace
Homemade Rings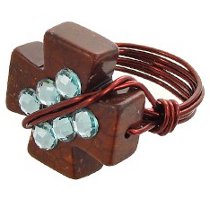 Last, but certainly not least, a quick and cool way to add a touch of turquoise is with a DIY ring. You can stick with earthy hues and craft this gorgeous Brown Turquoise Peace on Earth Ring. It's easy free wire jewelry making instructions make it a must-have jewelry piece. You can also craft a Turquoise and Pearl Ring. This simple yet elegant DIY ring is the perfect thing to add a little sophistication to your everyday outfits. If you are looking for a way to make quick and cute rings, this project is for you.
All of these DIY jewelry projects are great ways to incorporate turquoise into your collection this season. So enjoy this fabulous pop of color this winter and start crafting these fun jewelry pieces. If you are interested in more turquoise homemade jewelry, check out AllFreeJewelryMaking.com.
Where have you seen turquoise this season?
Latest posts by AllFreeJewelryMaking
(see all)