Summer has come and gone; are you feeling the blues? I definitely am, but not in the way you may expect. Feeling blue isn't such a bad thing when it comes to the trendy color of fall: cobalt blue. You've seen multiple actresses wear this color to the Emmy Awards. You've seen this color around in department stores. Why? Because everyone loves this versatile, bright blue color.
Want to add cobalt blue to your fall wardrobe? You are in luck. AllFreeJewelryMaking has a list of five DIY jewelry projects in this stunning seasonal color.
Five Cobalt Blue Jewelry Projects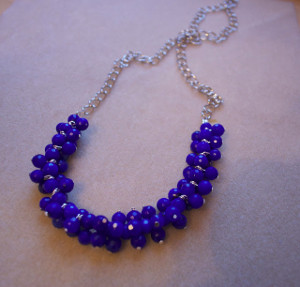 Give yourself a tasty jewelry treat with this homemade necklace. This Colbat Blueberries Necklace looks like a bunch of delicious fruit. Indulge in the colbat blue trend with this enticing homemade jewelry piece.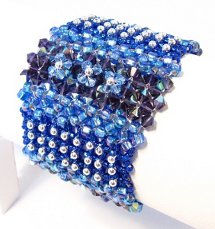 If berries aren't your thing, try a DIY beaded bracelet instead. This Cobalt Blue Elegance Bracelet is a beautiful and smart choice. It will look great with any outfit. This homemade bracelet will look just as good with a pair of jeans as it will with a fancy new dress for a night out on the town.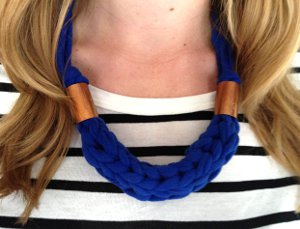 Maybe you are not into beads. You can still be on trend with this Chunky Finger Knit Necklace. Doesn't it just look cozy? The best part of all, you don't need any tools to recreate this DIY necklace design; you just need your fingers. This is such a simple way to add this bold color into your wardrobe.
I don't know about you, but my favorite pieces of new jewelry to try are usually earrings. These Cobalt Earrings by Melody for Kollabora are so gorgeous with their rich blue lace. Use the free pattern and give these DIY earrings a try for a classy accessory addition to any outfit.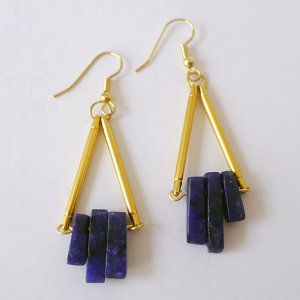 If you tend to wear more gold than silver, you can try these Trapeze Lapis Earrings. These homemade earrings are another way to add this cool cobalt color into your jewelry collection.
All of these DIY jewelry projects are great ways to incorporate cobalt blue into your collection this season. So enjoy the blues this fall and start crafting these fun jewelry pieces. If you are interested in more blue homemade jewelry check out AllFreeJewelryMaking.
Where have you seen cobalt blue this season?
Latest posts by AllFreeJewelryMaking
(see all)