Clay is one of my favorite art supplies for kids! With tons of colors and zero rules, you have the freedom to create anything you want when you craft with clay. You can roll clay into a tube, smash it into a pancake, mix your own colors, and everything in between. I absolutely loved crafting with oven bake clay as a child, so when I got the chance to give away a Sculpey III 30 Color Sampler and Tool Kit on AllFreeKidsCrafts, I just had to share a few of my favorite clay projects for kids.
Boys and girls alike will love these easy clay projects, so be sure to browse the entire list. Even if you've never tried making your own polymer clay projects before, these ideas are sure to turn you into a clay enthusiast!
DIY Jewelry and Accessories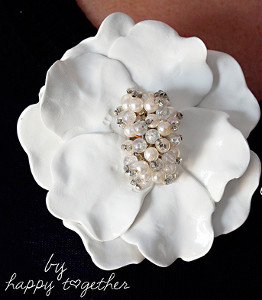 The amazing thing about polymer clay jewelry is that no one will be able to believe your new accessories came out of the oven, not out of a store. These pretty polymer clay craft ideas are perfect for girls who want to show off their style and their crafting prowess all in one project.
Decorative Crafts
Looking for more things to make out of clay? You can use clay to create awesome decorative crafts for your home! From picture frames to an awesome light switch fit for a boy's room, there are tons of ways for you to use clay to decorate. These clay projects for kids make wonderful homemade gift ideas and keepsakes, too!
Homemade Toys
Have I proved that the possibilities with clay crafts are absolutely endless? If you still don't believe me, these homemade toys should do the trick. For example, did you know you can use clay to make your own eraser? Easy clay projects for kids like these are ton of fun. Once you've got the hang of these little critters, you can create your own toys and figurines out of clay!
BONUS! If you just can't wait another minute to start on these clay projects for kids, we have a solution. This Homemade Modeling Clay recipe is easy to make, and you can use it as oven bake or air dry clay!
Have I inspired you to start making your own crafty clay creations? Great! Now all that's left to do is enter our latest giveaway. The Sculpey III 30 Color Sampler and Tool Kit is has everything you need to start crafting with clay, and you could win one for free! You can enter for your chance to win a Sculpey III 30 Color Sampler and Tool Kit by clicking here. The deadline to enter is January 20, 2014, at 11:59:59 p.m. Eastern Time, so don't waste another minute! Enter today!
Did you craft with clay when you were a kid? What did you make?
Latest posts by AllFreeKidsCrafts
(see all)