Print This Post
Finally, AllFreeSewing.com has introduced an embroidery category to the site! This is very exciting stuff, guys. Aside from the obvious reasons we all love embroidery, I'm especially excited about this new category because now these adorable ideas are easier to find. You'll notice there are only a few projects in the category as of now, which is why I need your help! We're looking for bloggers, designers and embroidery enthusiasts to feature on the site. If you or someone you know fits the bill, let us know! We'll add your projects to the site and put the spotlight on your awesome ideas. (Scroll to the bottom of this post for our contact info.)
For now though, check out some of the Christmas embroidery ideas we currently offer.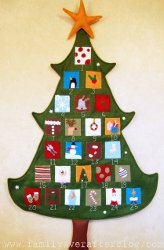 Pottery Barn Inspired Christmas Tree Advent Calendar
Can you imagine the look on your family's face when you show them this completed Pottery Barn inspired Christmas Tree Advent Calendar? Not only is this one impressive homemade Christmas craft, it will help you count down to the special holiday! If you've been looking for fun Christmas craft ideas, this advent calendar will not disappoint. Each pocket is specially embroidered. You can personalize your calendar by embroidering your child's favorite hobby or an image of your famous Christmas cookies.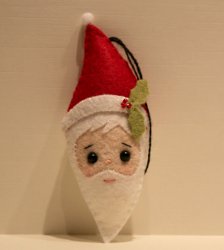 Embroidered Santa Head Ornament
The adorable Embroidered Santa Head Ornament makes a wonderful gift for neighbors, co-workers and friends. When you're searching for great craft ideas for Christmas gifts, take a look at DIY ornaments like this one. As a truly special ornament, you can count on it hanging on their tree for years to come. Use the free pattern and step-by-step directions to complete this cute and easy Christmas craft.

Create your own Christmas Wall Art with embroidery hoops, fabric and felt. These cute Christmas craft patterns are great for decorations or gifts. Your kids will love decorating this fun Christmas craft!
Our friends at FaveQuilts.com have some great ideas too:
Do you have embroidery ideas to share with us? Contact me, the editor of AllFreeSewing.com at customer.service@primecp.com.
We think embroidery projects make special gifts. Have you ever given or received something embroidered?
AllFreeSewing is the ultimate resource for quick and easy sewing patterns, tutorials, and charts. You'll find dress and bag patters, alteration guides, even instructions to help you with that pesky sewing machine. The best part? It's all absolutely free. Come and join our community!
Latest posts by AllFreeSewing (see all)
Print This Post