I will admit immediately (before you start throwing things) that the title may be a little misleading. Gift giving isn't going to save the world per say, but giving homemade gifts created out of recycled or re-purposed materials might! Or, at least, every little bit counts.
I have never been a good gift giver. Or, rather, I've always been a very self conscious gift giver. I always buy or make something that I think is really great, but as soon as I get it home or finish it I start to doubt whether it actually is great. Am I the only one with this problem? Fortunately for me, everyone always likes (or seems to anyway) their gifts, so I keep on trying.
I always like snooping around early for Christmas gift ideas, because the holiday season always pops up out of no where. Well, I think I found some ideas that I might stay confident about and that make me feel good about what I'm making.
These projects are all made out of recycled or re-purposed materials. This is not only wonderful for my wallet, but for the environment as well. What else could you ask for? With these crafting ideas, I know I can definitely afford to please everyone on my shopping list. Are you itching for examples yet? Here goes:
This is a bracelet made from comic strips. Yes, I know, it is awesome. And an ingenious was to recycle the Sunday comic section, while making an adorable bracelet. Plus, this Comic Strip Bracelet gives me a chance to practice my bead making skills. I could probably even use an old bead bracelet I already have and just cover the beads with comic strips and Mod Podge. I know this will make a great gift for the comic book lovers in my life.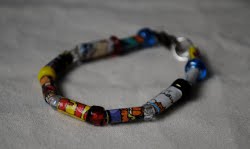 I found all these other great projects too that will work for everyone. Keeping with the superhero theme, these Superhero Luggage Tags are an amazingly simple idea that you can customize to fit the style of the traveler in your life! The pattern is so adaptive that you can also use scrap fabric from around the house or cut up an old dress that doesn't fit anymore. I'm constantly holding on to clothes simply because of the sentimental value, this project is a great way to give those pieces a new life.
This Wine Bag Tutorial made out of a burlap sac and Cereal Box Advent Calendar House are nice little party gifts for your friends and their kids – just be sure to fill the calendar with candy!
Anyway, this is just the start. I'm going to have to come up with a lot more projects to keep everyone on my list happy. Good thing it's still early in the year.
Can you help me out with any ideas?
Latest posts by AllFreeChristmasCrafts
(see all)