My oldest sister cannot keep her seven-year-old daughter in coloring books. She will sit down and carefully color every page, cover-to-cover. She encourages friends and eager aunts to help her color her coloring books, but she has final say on color choices and overall design decisions. For that reason, I was happy to check out a new site called ScrapColoring.com when the owners contacted us. While many websites are offering free coloring pages, ScrapColoring.com offers some great, easy-to-use technology that encourages the user to color online.  I hesitate to say "child" users because I had a pretty good time coloring a page myself!
The artist can:
Select from a large collection of images to color, organized by theme.  Selected images are placed inside of the coloring program which includes many options for patterns, in addition to basic solid-color coloring. Kids would really have a blast experimenting with the different patterns (I know I did!).
Upload a photo to be converted into a coloring page.
Enter in a name or two-lines of text to be colored. For example, the user could put in Happy Birthday!, From Nick and color a page with those words. Then, the user could email the page to family member.
With the program, adults can also create a patterned background for their desktop, blog design, Twitter page or for digital scrapbooking. Of course, you can also print a patterned background for homemade cards and print scrapbooks.  Example from pattern generation shown below.
When finished, the artist has the option to print, but can also email the page or share in a number of social networks. Save trees!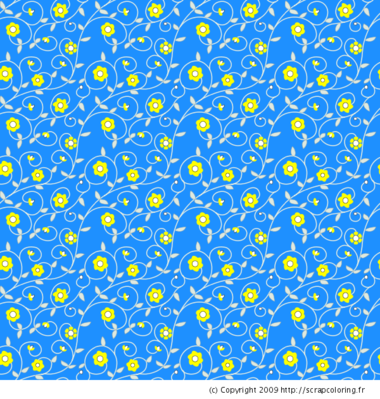 Overall, I'm a fan of ScrapColoring for how it embraces the digital age, encouraging online art-making for all ages. An endless digital coloring book is certainly the eco-friendly choice.