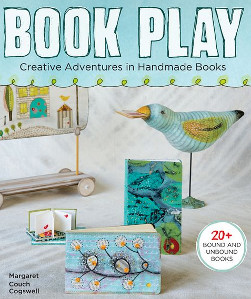 Margaret Couch Cogswell's book, Book Play: Creative Adventures in Handmade Books is the perfect bookmaking guide for beginners and advanced bookmakers alike. While you read through each chapter this guide will teach you how to make traditional and experimental books unique enough to house your greatest stories. Choose from 22 projects that range from beginner to intermediate levels. With the help of Margaret's guide, you'll learn how to create various types of book bindings and to construct different forms from paper, fabric, metal and other materials.
The easy-to-follow tutorials that she has included in this book are accompanied by full color images that will further guide you to your final product. With this handy bookmaking guide you can create up to 22 different pocket books, refurbished notebooks, match books, accordion books, cloth books, and other designs. Using the techniques that Book Play: Creative Adventures in Handmade Books has to offer your creative options quickly become limitless.
The travel journal, bottle cap accordion, and wheelie bird are a few of the more unique designs that are available for you to choose from. Designs like these make for fabulous handmade gifts that can include an extra dose of sentiment. Make something special enough to carry your favorite stories, notes, and quotes with the help of this innovative craft book from Lark Crafts.
Learn more and enter to win here.
Latest posts by AllFreeHolidayCrafts
(see all)