Have you ever wondered how to start making your own jewelry, but don't know where to start? Well there is no need to wonder anymore with these five fabulous beginner projects to help you start making your jewelry designing dreams a reality. Spring is a time of new beginnings, so there is no better time to start a new project, begin a new hobby, or find a new skill than this season! Designing jewelry is a lot of fun and is a great creative outlet, but it can be a little daunting to get started. That is why we here at AllFreeJewelryMaking have put together a list of five fun and easy projects to lead you in the right direction. From simple statements to beginner woven bracelets, there is a project for everyone to try in this collection. Start the spring season off right with these beautiful beginner jewelry projects.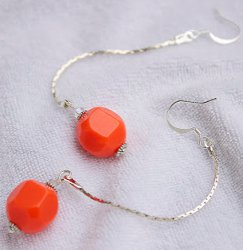 DIY earrings are one of the easiest ways to start making your own jewelry. These Quick Coral Drop Earrings couldn't be cuter, or easier to make! Learn how to make bead earrings in just five minutes using supplies you already have lying around with this simple tutorial. These easy earrings are super chic, yet still add a flirty punch of color, keeping the look light and fun and perfect for spring.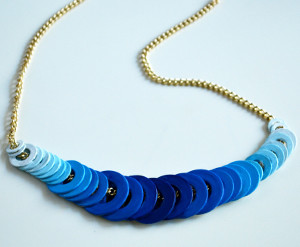 Recycling fans will love this fantastic DIY jewelry piece. With some recycled washers and a little paint, you can create this lovely Ombre Washer Necklace. Crafting jewelry out of recycled materials is both frugal and fun. This project helps you get the trendy ombre look for a fraction of the cost of many designer and retail jewelry pieces. The only question you'll have about this fabulous DIY necklace is which color to choose!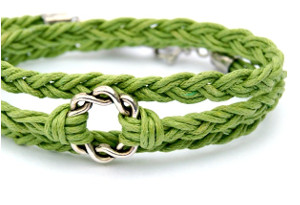 Simple bracelets are another easy and fun way to start making your own jewelry. Ease your way into bracelet designs with the Beginner's Wrap Bracelet. This tutorial features a simple bracelet design that is a great introduction to hemp bracelets. This easy, yet always stylish bracelets are a great way to build your bracelet making confidence.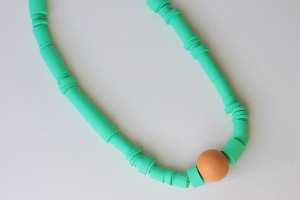 Remember when you were young how much fun it was to play with clay? Well you can have that same enjoyment making this Mint Statement Necklace with Clay. The bright bold color of this statement necklace makes it perfect for spring. Plus, this project requires few materials, so the price to make this beginner statement necklace is perfect for any budget.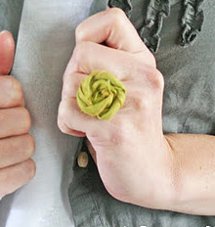 Last, but not least, we have a lovely fabric jewelry tutorial just for you. Flowers are an essential part of spring, which means they will also be a staple part of your spring jewelry collection. Grab some scrap fabric and twist, and soon you'll have your very own Fabric Flower Ring like this one. They are so quick and charming that you'll want to make a bouquet of them in every color!
Be sure to check back at AllFreeJewelryMaking.com for the latest beginner jewelry projects, as well as tips and tricks for beginning jewelry makers!
EXTRA:  Enter the Leisure Arts Beginning Jewelry Making Books Giveaway! Enter to win a copy of Learn to Make Jewelry, Quick and Easy Peasy Jewelry, and Oh-So-Easy Jewelry. We are giving away a copy of each of these three fabulous books to two lucky winners. Learning how to make jewelry has never been easier than with these three helpful guide books from Leisure Arts. If you are interested in starting to make your own jewelry, these books are for you! Enter today to win this fabulous giveaway prize!  The deadline to enter is March 31st, 2014, at 11:59:59 p.m. Eastern Time.
What was the first jewelry project you made?
Latest posts by AllFreeJewelryMaking
(see all)