If you've always dreamed of being a jewelry designer but didn't know where to begin, you can stop dreaming and start doing with Jewelry Making for Beginners: 11 Beginner Jewelry Projects. The latest in a series of free jewelry pattern eBooks from AllFreeJewelryMaking.com, Jewelry Making for Beginners helps you build a solid foundation of fundamental jewelry making techniques as you create simple yet stunning bracelets, earrings, and necklaces of all kinds.
This new eBook from AllFreeJewelryMaking covers all the most basic and essential jewelry making techniques, so you can develop a strong knowledge of the basic mediums that you will come across in your jewelry making journey. As you make beautiful new accessories, you'll be learning how to wire wrap, how to make simple strung bracelets and necklaces, how to form your own hoop earrings, how to finish a piece, and so much more.
Learn Basic Wire Wrapping Techniques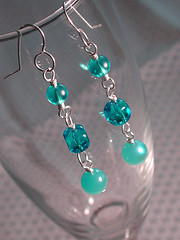 If you're serious about learning how to make jewelry, then wire is a medium you will have to master. Whether it's taking a back seat or playing a center stage role, wire is used in so many jewelry projects of all kinds. Jewelry Making for Beginners includes a variety of wire work jewelry projects, so you can get a taste of all the techniques. Learn how to wire wrap a pendant with the Vintage Chandelier Crystal Necklace project, how to make your own wire-wrapped headpins and eyepins with the Beginner Wire Wrap Earrings tutorial, and how to form your own wire hoops with the Beaded Hoop Earrings project. Once you master these fundamental wire jewelry techniques with these projects, you'll be able to carry over your knowledge to so many other jewelry creations.
 Learn How to Make Bracelets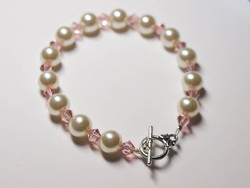 Beaded bracelet projects are a favorite among DIY jewelry enthusiasts, so you're going to want to master the art of bracelet making early on. With the beginner bracelet patterns in Jewelry Making for Beginners, you can try your hand at a variety of designs and find the technique that suits you best. With the Glass Pearls and Crystals Bracelet, you'll learn how to make a bracelet using beading wire, including how to use crimp beads and how to finish a piece with a toggle clasp. However, if you're looking for a quicker fix that doesn't require tools, then the stretch bracelet projects like Shirley's Simple Stretchy Bracelet and the Snake Bead Bracelet might be more your speed.
Master a Simple Chainmaille Weave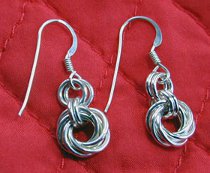 Chainmaille might seem a bit intimidating to a beginner, but it's a classic jewelry-making medium that is worth trying out. Jewelry Making for Beginners includes a totally accessible, basic chainmaille pattern so you can get a taste of every technique and really develop a well-rounded base knowledge. The Mobius Flower Earrings included in this collection are a great entry point for someone looking to get their feet wet with chainmaille. Once you master the mobius weave, you'll be ready to take on more challenging chainmaille patterns.
The best way to learn is to do. With the 11 easy tutorials in Jewelry Making for Beginners: 11 Beginner Jewelry Projects, you learn essential jewelry-making techniques and skills through hands-on experience. Master the basics and make gorgeous new jewelry along the way. Download your free copy of Jewelry Making for Beginners now!
Which jewelry making techniques do you most want to master?
Latest posts by AllFreeJewelryMaking
(see all)