So, summer is almost officially here, but you have at least a month before it is actually beach season. The weather isn't quite as warm as you need it to be to truly enjoy a warm and wonderful day in the sun, sand, and surf. At least, that's the case for us here in Chicago. If you're a Florida or California crafter, I am crazy jealous. Either way, one of the best ways to learn how to make a beach bag is to create crochet bag patterns. Crochet tote bag patterns make fantastic beach accessories because they are sturdy without being too heavy. Plus, if you make them lacy enough, the sand can fall right through or you can easily line these light crochet patterns to make clean-up simple.
Sometimes it can be hard to find the right crochet patterns to hook up in the summer. Bulky projects like an afghan can't travel, and you won't wear a new crochet scarf pattern for months! Make something you can bring along on road trips and actually use the next day when you make the sunshine-approved crochet bag patterns in Seashore Solutions 23 Crochet Tote Bag Patterns.
Seashore Solutions: 23 Crochet Tote Bag Patterns
Beach Bag Free Crochet Patterns
These free crochet patterns are beach day essentials. Simply stunning and perfect for carting your sunscreen and beach reads, these crochet projects will surely find a home atop your beach towel.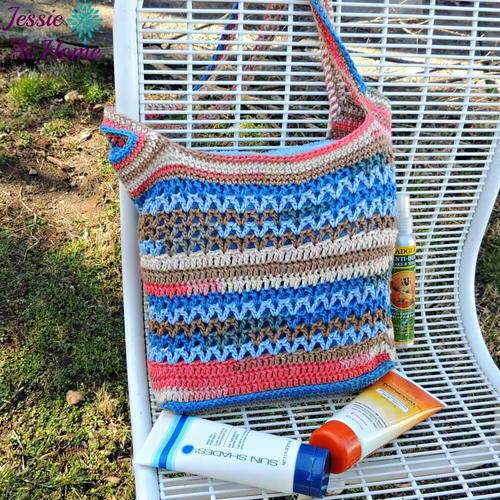 Summer Tote Bag Patterns
In the summer, you're exploring all sorts of places. Whether you're flip flopping your way to the Farmer's Market or sipping an iced coffee out on the town, these crochet tote bag patterns have your summer purse needs covered!
Describe the best beach bag you've ever had.
Latest posts by FaveCrafts
(see all)