We've all been there. You think you're good to go in terms of Christmas, birthdays and all other homemade presents and all of a sudden a new baby is born. Be prepared for your next get-together by learning how to make homemade gifts for new babies that will be well received by both the newborn and the parents. These baby gift ideas are super fun to make, not only because they are easy to put together, but because they're just darn right cute. Whether you use these as birthday gift ideas, baby shower gift ideas or Christmas gift ideas, this collection of crafts is worth checking out. Follow my list of DIY baby gifts and consider saving yourself a trip to the toy store and indulging in a little craft-time for yourself.
Baby Gifts Ideas that Will Guarantee Success
1. Based off of my interactions with new parents, I've learned that they're terrified for their baby's well-being. I never come across a new parent who doesn't continually glance at their child as though they're waiting for spontaneous combustion of some sort. This is entirely understandable and can be used to your advantage when deciding on homemade gift ideas. This Christmas, create these super easy Best Baby Knee Pads. It's scary enough having a crawling baby loose in the house. Put the parents' minds at ease by providing some knee protection for their little one's sensitive skin.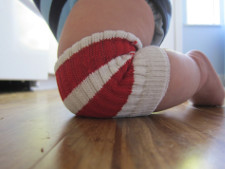 2. Obviously, this Baby Christmas Beanie is for the holiday season. Homemade Christmas gifts for babies really don't get cuter than this tree topper. The newborn will be getting a lot of baby hats during its debut into the big bad world, but you can gift a homemade hat that's unlike any other with this crochet craft.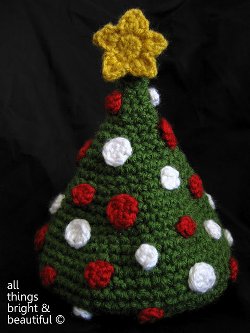 3. I love this idea from Club Chica Circle. This Cupcake Onesie Gift Idea provides practical supplies for parents and it looks delicious. As a die-hard cupcake fan, I'm in love with this gift presentation. For me one of the hardest parts about giving a gift (after the hurdle of selecting one) is wrapping it. Check out this project if you're at a loss for gift wrapping ideas.
4. I just couldn't ignore the royal baby buzz. Treat your friends and family's newborns like royalty by crocheting this adorable Crochet Crown from Poochie Baby Crochet Designs. Once you tackle this design, treat yourself to a crown for yourself. After all, if it's good enough for royalty, it's good enough for you, right?
5. This Jesus Felt Finger Puppet really should be at the top of my list for baby crafts. I love this baby gift idea. Say you're running late for a party and you know there's a baby there waiting for a present (because all babies expect them). You can whip up this itty-bitty puppet and entertain that little rascal endlessly. Plus, the subject of this puppet couldn't get any safer. Parents will love you for investing energy into entertaining their child.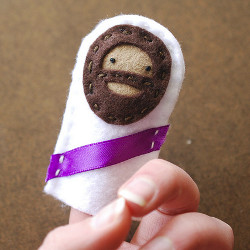 For more great baby gift and Christmas ideas visit our site! There are tons of Christmas-inspired projects that will have you crafting in no time.
 What's the strangest baby gift you've ever seen?
Latest posts by AllFreeChristmasCrafts
(see all)