It's the hottest new trend for spring: aquatic jewelry. I've been seeing this sea-inspired motif popping up all over the place, and I can't help but want to dive into the trend headfirst myself. Of course, most of those amazing aquatic accessories come with a pretty hefty price tag…and who wants to pay a treasure chest worth of cash for designer jewelry when the fads change as quickly as the tides? Don't let your floundering finances dash your fashion dreams; go the DIY route and make your own aquatic jewelry designs! With these bold, beachy jewelry projects, you can make a splashin' fashion statement while holding on to your gold.
Aquatic Jewelry Designs that Make a Splash!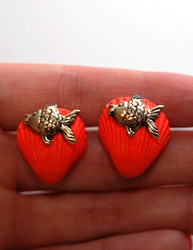 If you want to try out the aquatic jewelry trend but aren't quite ready to jump in the deep end, get your feet wet at first with these Painted Seashell Earrings. This is a super easy project that even beginners will find to be smooth sailing. Add a splash of color by giving your seashells a coat of coral paint.
Now you'll have something to do besides sit back and soak up rays the next time you make a trip to the beach. You'll be busy scouring the sands for the perfect pair of shells to make these DIY Shell Earrings from Honestly…WTF. These enchanting earrings are enough to inspire accessory envy in the trendiest fashion mer-maven.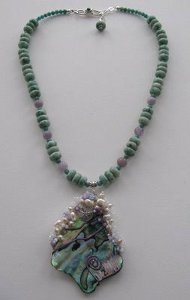 You may just ensnare a sailor or two with this South Seas Siren Necklace. This nautical necklace pattern is fit to grace the neckline of any statement-making sea nymph. Just beware; admirers may be helplessly mesmerized by your beachy beading prowess.
Incorporate the colors of the coral reef into your jewelry creations with this Crocheted Sea Anemone Bracelet. Bright, bold, and beachy, this sizzling bracelet pattern is ready for a day of fun in the sun. With hook in hand, you're all set to snag this look for yourself.
If you don't want to look all washed up this spring, you've got to make this Washed Ashore Necklace. Use that gorgeous sea glass you picked up on your summer vacation to create this pretty piece by Shrimp Salad Circus. This little treasure is sure to become one of the most prized possessions in your jewelry box.
There's no going overboard with these ocean-inspired accessories, so go ahead and make them all! If you haven't jumped ship yet and are still seeking sea-inspired accessories, check out these other aquatic jewelry projects:
What do you think of the "aquatic jewelry" trend? Would you rock it?
Latest posts by AllFreeJewelryMaking
(see all)