I have a love-hate relationship with Anthropologie. I think you fashion-loving ladies know what I mean… The clothes and accessories they sell are super cute and trendy, but every time I go there, I don't even bother to try anything on or even pick up a price tag; I know without looking that it's out of my price range.
But fret not, fashionistas! There is solace to be found for us style mavens of modest budget. The blogosphere is positively riddled with awesome Anthropologie DIYs that are often just as good as the real deal for a mere fraction of the store price. We've rounded up some top notch Anthro-inspired DIY jewelry projects so you can get the look for less (like, way less). Rejoice, jewelry junkies! DIY is here to save the day.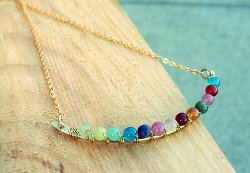 The original "Perched Harmonies" necklace retailed for $68 at Anthro, but this DIY version by The Quiet Lion looks as lovely as the real thing and only requires common jewelry supplies you can pick up at the craft store. It may look complicated, but this wire-wrapped necklace design actually took less than an hour to make! I mean, think about how much you earn an hour; this DIY necklace is probably worth your while.
Flossin' like the fiercest fashionistas is easy with DIY jewelry projects like this one from The Craft Caboodle. This Anthropologie DIY Rhinestone Cuff has everything you could want in a DIY: a cool monochromatic color scheme, a bit of bling, and all the nostalgic fun of friendship-bracelet making. The best part of crafting your own bracelet rather than buying one from Anthro? You can customize the colors to your liking!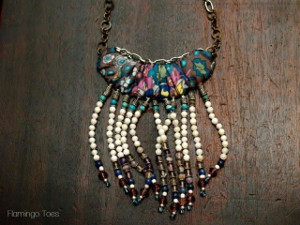 I'm sure we'd all love to be able to drop $168 on a new necklace whenever we feel like it, but for those of us working with an average income, DIYs like this Luya Beaded Fringe Bib Necklace will certainly suffice. Hey, you don't have to break the bank to make a statement with your jewelry! This gorgeous DIY necklace does the trick and will save you loads of dough (and buyer's remorse).
Looking at the Anthro original necklace, you might think that you couldn't pull this piece off yourself, but this Anthropologie Accordion Strands Necklace Knock-Off Tutorial by Yellow Blackbird proves that it's pretty much a piece of cake to replicate. By skipping the silk and going for grosgrain, you can save yourself most of the $278 the original necklace cost. Anyone else remember learning this "boondoggle" weaving technique at summer camp? I do! See, this DIY necklace is something even a kid could pull off!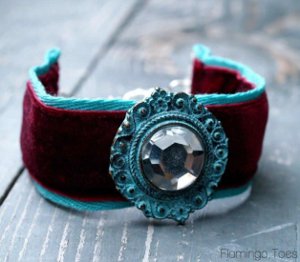 Sometimes admiring designer accessories can be a great way to gather jewelry making inspiration. For this Velvet Cabochon Bracelet, Bev of Flamingo Toes didn't copy the Anthropologie piece exactly but merely used it to draw ideas for her own original design. The next time you get stuck with "beader's block," try doing a little window shopping to ignite that spark of inspiration.
So, if you find yourself drooling over a much-too-expensive accessory at the mall, take a second to think, "Could I make this myself?" Most likely, the answer will be a resounding "Yes!" and nothing can top the gratification of telling people you made that knockout knock-off yourself. If you don't see the DIY you're looking for here, check out even more Anthropologie-inspired DIY jewelry projects (and other DIY designer knock-offs) at AllFreeJewelryMaking.com.
Have you ever crafted a designer-inspired DIY project?
Latest posts by AllFreeJewelryMaking
(see all)