Last Friday, February 1, 2013, was the tenth annual Wear Red Day, which kicked off American Heart Month. American Heart Month was created in an effort to educate women of the dangers of heart disease. It is estimated that around 43 million women in the U.S are affected by heart disease. Having heard a number like that, I would imagine that you're wondering what you can do to help. To show your support for American Heart Month, go red for heart disease this February! In honor of American Heart Month, AllFreeHolidayCrafts.com has selected a few of our favorite heart-shaped crafts that will help you go red this month. Show your support and craft your own heart projects for American Heart Month.  These heart-shaped crafts will help you show-off your devotion to this great cause, and you'll have fun while you do it!
Go Red: Heart Crafts to Wear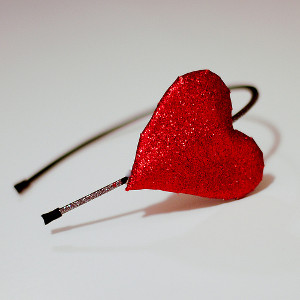 A quick project like our Shimmer Heart Headband is a great way to whip up an accessory in no time that will show your support. You can wear this headband with any outfit, so go red on a daily basis! Another quick way to accessorize for American Heart Month would be with a pair of Hanging Heart Earrings, simply pop these easy-to-make earrings in and you're instantly representing American Heart Month. These Valentine's Day crafts are also a great way to make yourself a little extra something to wear on the 14th, and who doesn't love multipurpose projects?
Heart Wreaths for the Cause
If you want to step it up a notch, add some flair to your front door with one of our red wreaths. Hanging one of these wreaths during February will help spread awareness of American Heart Month, to your neighbors, friends, and each passerby. Take our Upcycled Dollar Store Wreath for instance; this heart-shaped wreath is one big red statement! The Upcycled T-shirt Heart Wreath is another great option for women looking for way to spread awareness. Plus, both of these heart-shaped wreaths are made from inexpensive materials.
If you're a female crafter, what better way to use your talents this February than by creating a few crafts to demonstrate your support for American Heart Month? Help spread awareness and influence your family, friends, neighbors, and acquaintances to share their support as well. Don't hesitate to spread the word, and find out more information from the American Heart Association!
Latest posts by AllFreeHolidayCrafts
(see all)