Print This Post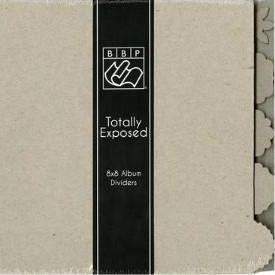 With this Totally Exposed Chipboard Album and Dividers, the creativity is completely in your hands. If you've been looking for a photo album that is completely one of a kind and personal to your life, this Totally Exposed Chipboard Album and Dividers is the answer to your prayers. It's a blank slate from cover to cover and you decide not only what pictures go inside of it, but also what the book itself looks like.
The Totally Exposed Chipboard Album is an 8×8 photo album made of carboard. It's a completely blank canvas which you get to decorate and embellish as you wish. Purchase glitter, paint, stickers and more and make the covers of your album totally unique. Get the kids involved and reflect on family vacations and special occasions while you spend the day crafting. Whether you make a holiday album, a wedding album, or a family vacation album, your Totally Exposed Chipboard Album is bound to be special.
Also included with the album are 8×8 album dividers. Each of these cardboard sheets is another canvas for your creativity. With these album dividers, you can give your photo album categories. Divide the album by past family vacations, holidays, or birthdays. The album dividers make organizing your photo album a cinch. This Totally Exposed Chipboard Album and Dividers makes reminiscing really fun. Set it on your coffee table and allow guests to not only admire your family photos, but your artistic skills as well!
Learn more and enter to win here.
AllFreeHolidayCrafts.com is an ever-expanding collection of the best holiday crafts from all over the Web. The site includes free holiday craft ideas for every occasion, including Halloween costumes, Thanksgiving decorations, Valentine's Day cards, Easter crafts for kids, easy Christmas crafts, free Father's Day crafts and Mother's Day crafts, St. Patrick's Day crafts, ideas to make patriotic decorations and so much more!
Latest posts by AllFreeHolidayCrafts (see all)
Print This Post