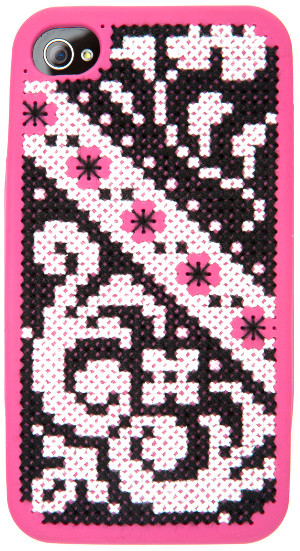 Embroidery fans rejoice! Red Heart has created the perfect iPhone case for embroiderers, the iPhone Cross-Stitch Case. You will be able to show off your love  for crafting when you cover your iPhone in a case of your making. This creative case for your smart phone is made to fit either the iPhone 4 or the iPhone 4S, one more reason for apple users to smile. The iPhone Cross-Stitch Case comes with four different patterns for you to choose from, a silicone phone case, six colors of embroidery floss, and convenient instructions to follow for each of the four patterns.  The iPhone Cross-Stitch Case, from Red Heart Yarn, is the perfect way to protect your smart phone in style. Your phone will reflect your personality, style, and hobbies when you show off your crafty side with this great new product from Red Heart Yarn.
Along with your silicone case you will be getting four different iPhone Cross-Stitch Case designs in this pack from Red Heart Yarn. These four different patterns include a cupcake template, an Eiffel Tower template, a plaid motif, and finally a paisley motif which can be seen in the image to the left. These four options are yours to choose from, so decorate your iPhone case most according to your personal style. Whether you are familiar with cross-stitching or not, the iPhone Cross-Stitch Case comes with instructions, making it easy to create for crafters of all skill-levels. In addition to these easy-to-follow instructions you will also receive 6 different colors of embroidery floss and an embroidery needle. With all of the supplies needed to make your own iPhone case, there is nothing stopping you from having a personalized case than the  iPhone Cross-Stitch Case pack from Red Heart Yarn.
AllFreeHolidayCrafts.com is giving away an iPhone Cross-Stitch Case to one lucky winner. You Could win!
Learn more and enter to win here.
Contest ends March 19, 2013. You can enter once daily, so return often to improve your chances of winning!
Latest posts by AllFreeHolidayCrafts
(see all)