The Heritage line from Bazzill Basics Paper is a vintage classic scrapbooking line that will allow you to document your family's genealogy in both a traditional and a contemporary manner. Using muted antique colors like champagne, taupe, brown, and charcoal grey, this line will give you a modern way to create a vintage feel for your next family scrapbook.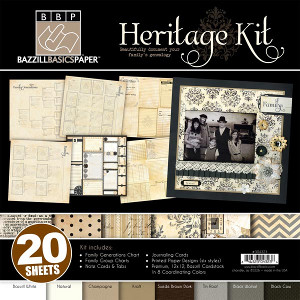 The Heritage line focuses on antique script, musical note, and family tree motifs. One of the included prints is made up of an actual family tree chart that can be filled out to document the different generations of your family line. A second pattern you will find is covered in cursive script that gives the page an aged and rustic feel. Some of the other scrapbook pages included in the Heritage line gather their antique likeness from featuring black and white flowers, text, and paisley patterns in soft sepia tones.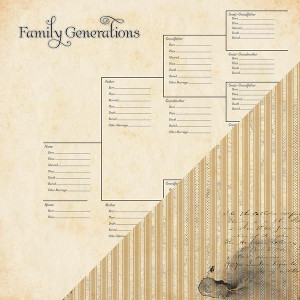 With the Heritage Collection Pack you will also get an assortment of other embellishments and patterned paper prints to make your family genealogy scrapbook complete. The Heritage line includes a selection of 20 sheets of coordinating scrapbook paper, which comes in colors like, white, natural, kraft, tin roof, and black walnut. This collection also includes 24 mini patterned paper prints that come in 6 different designs. Plus, you will also get a full sheet of family-oriented word art stickers. Some of the words featured on this full sheet of stickers are, mother, father, husband, wife, grand-daughter, son, family, affection, and laughter. Bring your family genealogy to life with the Heritage Collection Pack, it's perfect for any paper crafting looking for a modern way to document their family history.
AllFreeHolidayCrafts.com is giving away a Heritage Collection Pack to one lucky winner. You Could win!
Learn more and enter to win here.
Contest ends April 16, 2013. You can enter once daily, so return often to improve your chances of winning!
Latest posts by AllFreeHolidayCrafts
(see all)