Print This Post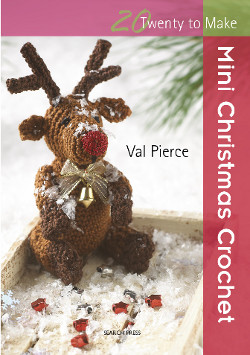 Not sure what do do with those random yarn scraps you keep holding on to? Now you have an excuse to use them up and create an adorable Christmas craft at the same time. Each of the 20 designs feature in Mini Christmas Crochet is completely adorable and perfect for the holidays.
These teeny tiny Christmas decorations will help you spread Christmas cheer all year long. Each of these projects can be hung on your tree as an ornament or left to stand on it's own as a display piece. You can also give them away to a friend or family member. You can use red, green or white yarn, but this is certainly not a requirements. In fact, the author of this book, Val Pierce, suggests using up yarn scraps for these projects.
The book begins with a simple introduction and a section called "Hints and Tips." Here you'll find a breakdown of materials, measurements and crochet techniques. There is also a section that explains terminology for both American and British crocheters. Once you've learned the basics, you can start working on the adorable projects!
AllFreeChristmasCrafts.com is giving away one copy of Mini Christmas Crochet to one lucky winner. You could win!
Learn more and enter to win here.
AllFreeChristmasCrafts.com is a website dedicated to the best free Christmas crafts, tutorials, tips and articles on Christmas. AllFreeChristmasCrafts finds and delivers the best Christmas crafts from all over the web, from Christmas ornament crafts to Christmas craft for kids. We want you to have the Christmas of your dreams.
Latest posts by AllFreeChristmasCrafts (see all)
Print This Post