Print This Post
So your daughter wants clothes from Forever 21 for Christmas?  Maybe you know someone who registered at Crate and Barrel, Macy's, or Pottery Barn for an upcoming wedding or baby shower…or perhaps you just love the designer look, but don't love paying designer prices…
Regardless of the reason, we have 9 knockoff projects that are inspired by high end merchandise…and best of all, you can make many of these for less than a quarter of the price of the real deal!  From cute clothes to home decor that will pass even the stingiest of eyes, these knockoffs and look a likes are just the thing for the upcoming holiday season.
Crate and Barrel Knockoff Clock
Love the look of Crate? With this crafty Crate and Barrel Knockoff Clock, you can make your very own handmade wall clock that mirrors the famous large print clock from Crate and Barrel.  This is an easy to make project that will compliment any decor.
These Easy Peasy Hairpins are similar to the fashionable hair accessories for women sold in Anthropologie stores…but much less expensive! These easy DIY cheap hair accessories can be made with ease…and no one will know the difference!
Bed, Bath, and Beyond Style Bathroom Set
This crocheted bathroom set is made with scented yarn, so it helps keep your bathroom organized and smelling clean! You can make these crochet bowls in a variety of sizes, shapes, colors, and scents! They also make wonderful gifts for those who have registered at BB&B.
This Forever 21 Knockoff Scarf is a great accessory to add to your wardrobe! With some simple crochet techniques, you can create this infinity scarf pattern in no time. This scarf makes a great gift and no one will believe you made it yourself!
This Pottery Barn Wall Organizer is an easy and fun way to get the look you love for less. A hanging wall organizer like this is great for a kitchen or entryway. You can use it to organize mail, notes, or just have it on display for all to admire.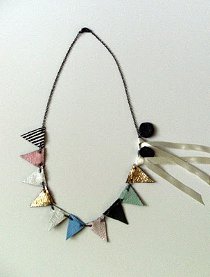 DIY Antropologie Bunting Necklace
Do you love the style of Anthropologie, but hate the price tag? Well if you saw this necklace and fell in love, make your own DIY Anthropologie Bunting Necklace with this tutorial. The simplicity of creating this will stun you!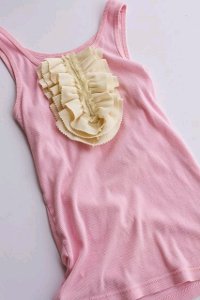 What's better than learning to make your own clothes using a free sewing project? Sewing clothes based on more expensive designs from a store! Try this LOFT inspired ruffle tank for pennies on the dollar!
Urban Outfitters Ear Warmer Knockoff
This knit ear warmer headband is inspired by a headband from Urban Outfitters! Knit your own with this knitted ear warmer pattern. It's simple to make, and cinching it in the middle creates a faux bow look.
This IKEA Inspired Painted Flower Vase is perfect for fall!  The colors are easily customizable if you want to change them. This is an easy painting technique that you can do on ceramic flower vases, as well as many other things!
Visit FaveCrafts.com for more great knockoff projects that will fool everyone!
FaveCrafts.com is a website with all the craft project ideas, tutorials, videos, and tips you'll ever need! We add new projects and tips every day. Some of our readers' favorites include Christmas Crafts, Free Knitting Patterns, Free Crochet Patterns and Crafting with Kids. You will find step-by-step instructions, videos and patterns to make it quick and easy.
Latest posts by FaveCrafts (see all)
Print This Post