You've got to admit, pillow tutorials to sewists are mugs to a regular Joe. No matter how many of them you have, you can't help yourself from collecting one every time it catches your eye. We understand, and we're here to enable you even more. The editors at AllFreeSewing happen to adore an easy pillow tutorial (and mugs, in fact), and today we're featuring 8 Patterned Pillow Tutorials We Want You to See.
You won't find these DIY pillow designs on AllFreeSewing just yet; they're newly discovered and we're absolutely in love with them. Best of all, all eight of these handmade pillow tutorials are totally on trend with the latest fad of prints and patterns. Super stylish patterned pillows allow you to keep the major pieces in your house, like couches and chairs, timeless and neutral. Instead of picking a print for your love seat that you'll hate ten years from now, stick with a solid color and infuse life into your home with DIY pillows. Small but strong accents like those created by these pillows' prints can keep a room's décor from feeling overwhelmed and busy while still appearing fresh.
Take a look at the latest in pillow fashion and get inspired to pile on the prints!
What do you think? Do you love these DIY pillow patterns? Are they causing you to jump from your computer, grab your pillows, and refashion them with loud and lovely prints? Maybe you lack the enthusiasm that the editors at AllFreeSewing do for such home dec designs as pillows and pillowcases, but we hope you at least feel inspired to go forth and create from this roundup of pillow ideas. If anything, they're easier to store than mugs 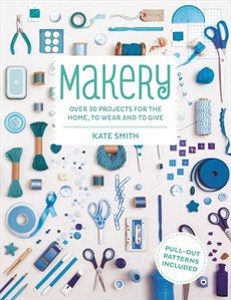 Love making accessories for your home and friends? Then you will absolutely LOVE this adorable book. Full of fun, fancy, cute, creative, and absolutely do-able projects, Kate Smith's Makery is a crafter's dream. Enter to win a copy today! Contest ends on June 23rd, 2014 at 11:59:59 P.M. Eastern time.
Do you DIY any of your home dec?
Latest posts by AllFreeSewing
(see all)