It can be tough deciding what to give your man for Valentine's Day. Do you want to go silly or sentimental? Is your guy stylish or too tough for trends? The editors of AllFreeeSewing have pulled these perfect present ideas for Valentines Day for you to make your man. If you're at a loss over what to make the Mr. Wonderful in your life, take these five tutorials to the sewing machine and start creating.
Five Sewn Gift Ideas for Your Man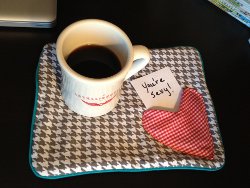 1. Mug Rug and Applique Heart Pocket – For the more traditional approach to Valentine's Day, go with something sweet. This tutorial allows you to get your sewing fix in by creating something absolutely, heart-wrenchingly cute (have you seen the pocket on this project?), and give something to your man. Set the table on V-Day with this mug rug, a sweet note tucked inside the pocket, coffee, and his favorite breakfast food. Doesn't have to be complicated, just has to be cute.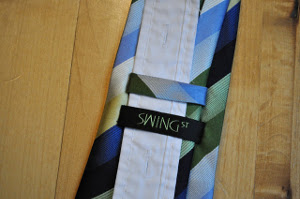 2. Magic Tie Trick – This simple sewing project can work for the goof-ball or polished professional. A man who appreciates a funny but effective fix to an everyday problem, he'll be grateful that you went with this DIY idea. Made to keep his tie from falling forward, this easy trick doesn't damage the quality of your guy's tie and won't take you long to do. Sounds like a win-win!
3. Firewood Tote – If your man is a rough and tough cookie, he'll appreciate this Firewood Tote from We Wilsons at Whipup. Get the free pattern to make this simple but handy tool that will make transporting that firewood easier for your man.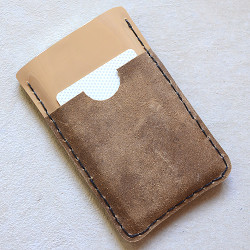 4. Gentleman's iPhone Case – It's up to you whether you want to go above and beyond and get him a hip and happening phone for Valentine's Day (we probably wouldn't), but this case can offer any older phone a stylish look that will make his device look brand new. Made from a masculine suede, this protective sleeve is both useful and aesthetically pleasing. Nothing says "I love you," like a mechanism to protect your main means of communication between each other.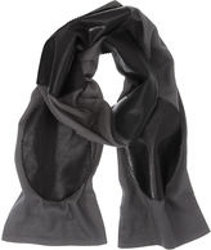 5. Leather Patch Scarf – Is he sleek and chic? We saved this sewing project for those that have a guy who enjoys looking good like you do. This sewn accessory is small and subtle enough to appeal to many tastes. With strong leather embellishments he can associate you with a feeling of warmth whenever he wears this sweet scarf.
We may not be pros, but we still think these sewing projects are pretty decent DIY gifts for Valentine's Day. Still, you tell us,
What's the best gift to give your man for Valentine's Day?
Latest posts by AllFreeSewing
(see all)