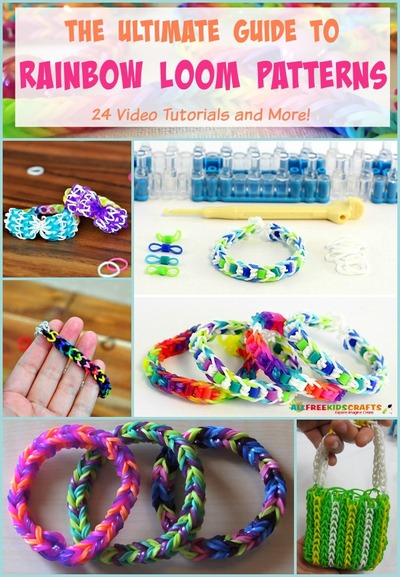 Friendship bracelets come in a variety of styles and types.  Us 90's kids may remember using embroidery floss to create knotted macrame friendship bracelets, like the Diagonal Striped Bracelet or the more intricate Broken Ladder Bracelet.
However, kids today have jumped on a whole new jewelry craze that has taken the crafting world by storm!  Walk into any craft or toy store and chances are you'll see a huge display of colorful rubber bands and charms, surrounded by kids of all ages grabbing for their favorite rubber band colors.
Perfect for creating colorful bracelets, necklaces, rings, and so much more, the rubber band loom has become a crafting sensation with kids and adults.  With a variety of looms to choose from, including the Rainbow Loom, Wonder Loom, FunLoom, and Cra-Z-Loom, this craze combines an age-old technique with a modern flair.  Kids and adults have created some absolutely magnificent designs (we love this Chic Chain Rubber Band Necklace) and it's no surprise that rubber band looms will be under several trees this holiday season.
10 Rubber Band Loom Patterns
Rainbow Loom patterns can be so much fun and there is a wide variety of what you can make! We'd love to see your Rainbow Loom designs because everywhere we look, we're seeing something new! New Rainbow Loom ideas are fantastic and I'm sure we will keep finding new Rainbow Loom tutorials to share with you!
What is your favorite thing to make with the Rainbow Loom?
---
Follow AllFreeKidsCrafts's board Rainbow Loom Patterns on Pinterest.


Latest posts by FaveCrafts
(see all)