Easy Origami Jumping Frog
Our origami jumping frog YouTube video is super easy for beginners to follow along!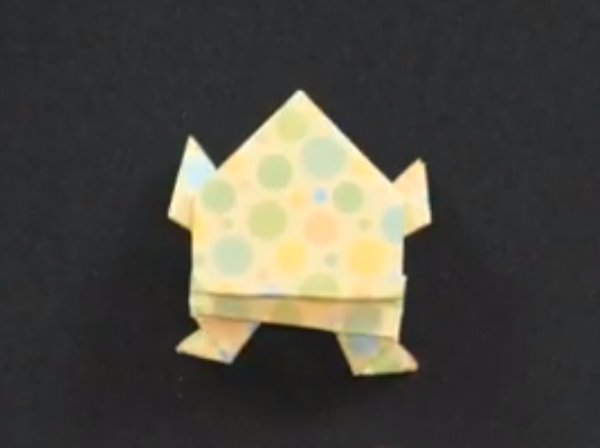 Easy Origami Jumping Frog
Make an easy origami frog with our YouTube video tutorial. The Easy Origami Jumping Frog is a darling project to make if you're just getting into origami! The frog is a wonderful tutorial for the advanced beginner, although complete beginners might want to try something a bit more basic, like the origami heart tutorial. Kids love this origami frog because it isn't just a pretty project to look at - it jumps! Paper crafts can actually make excellent toys, so be sure to check out this tutorial for how to make an origami frog.
Time to CompleteIn an evening
Type of Paper UsedOrigami Paper

Project TypeMake a Project
Materials List
Origami Paper
Credit card, bone folder, or simply a fingernail to crease the paper.
Instructions
Lay the right side of your paper face down. Fold in half from right to left.

Take the top and fold in half again.

Fold the top flap from bottom to top. These are all basic setup folds so far.

Unfold the last two folds you made. Create diagonals by folding the top left corner down at a 90 degree angle, then open it up and do the other corner.

Because of those setup folds you made, it's easier now to make the frog's head! Unfold the last fold you just made and push in the sides to create a triangle. Fold and crease.

Fold the bottom up to the base of the triangle.

Fold only the bottom layer in toward the middle of the paper on both the left and right sides.

Fold both the left and right points up at a diagonal. The diagonal is imprecise---whichever way you want. Just try to match both sides.

Fold the bottom up towards the middle of the frog. This fold has a lot of layers so it will be a bit more challenging. Just make it as crisp as you can.

Fold the top layer of the paper you just folded down at a diagonal toward the middle. Do this on both sides.

Slightly unfold the section you were just working on. What you'll do now is pull out the layer you just folded and draw it out and to the left. You'll repeat this on the right side. The object is to turn your base into a trapezoid.

Fold the bottom up one more time.

Fold the frog legs down. Then fold them back up along with the trapezoid. 

Using the folds you've already made, create a small accordion-style fold to give your frog a bit more dimension.

Fold the back legs so they point a little backwards. If you'd like them to point at a different angle, feel free to play around with this. Just make sure the two back legs match.
Your Recently Viewed Projects