Make a functional and surprisingly beautiful hot pad with cardboard. Follow this tutorial from Jenya of MyEvaForeva to create these cardboard hot pads.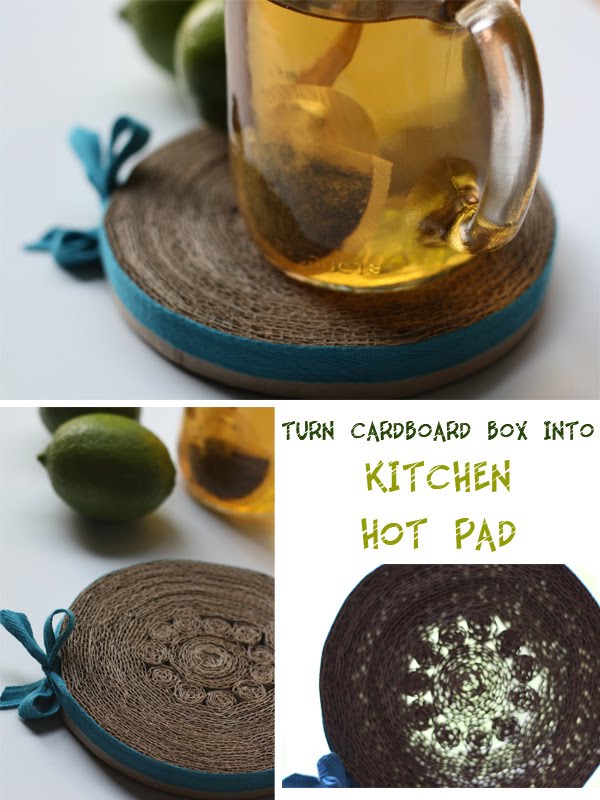 Materials:
cardboard
cutter of some sort (I used my fabric cutter but by all means feel free to use your scissors)
paper glue
ribbon
Instructions:
Cut the cardboard perpendicular to the waves (if you look through all the layers inside of it you will see the waves - don't cut along the waves).



Run the strips through something hard and round (like a handle of some sort) to make them more flexible and apply a small amount of glue along the perimeter.



Start rolling your first strip so it would look like the photo below - easy! As the strip finishes, connect the ends with the next strip and continue.



You can simply continue all the way or insert a design of your choice. I made a small flower. As I added the small circles I tied them while working on the next bunch. I recommend you rather using paper clips to keep your circles in place (I didn't have paper clips)





Don't worry if it doesn't look even - the other side should be much prettier.



Continue until you reach the size you want. Mine is about 8".



Finish it with a ribbon of your choice and ...Done!!!



Your Recently Viewed Projects