Memories of the Beach Necklace
Bring back fond memories of your trip to the beach with this Memories of the Beach Necklace from Maria Chatzi. Beach pebbles, stones, and sea glass would work perfectly for this necklace...and it's a great way to add a soft touch to your summer wardrobe.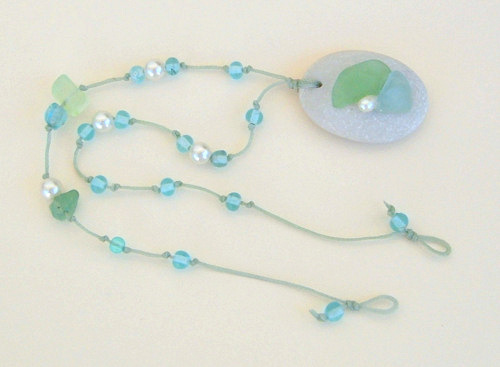 Materials:
Smooth rounded pebble, preferably white (or light gray or some other pale color)
2 tiny pieces of sea-glass, tumbled by the sea waves (the ones I used were light green and light blue)
Drilling machine and a Nr. 2 drill (If you don't know how to drill holes in beach pebbles there are plenty of free tutorials online – or, if you don't want to buy a drilling machine, you can have someone else drill it for you, who has one and knows how to do it OR BUY A DRILLED PEBBLE)
Waxed beading string (36 inches long), color: light green or grayish green
5 white pearls
2 drilled beach glass chips (I've used a light green one and a darker one)
18 light blue and round glass beads
2 pieces of organza or silk or satin ribbon (12 inches long each), color: light blue or grayish blue
Glue
Instructions:
Glue a pearl and the 2 tiny pieces of sea-glass on the beach pebble (not the drilled chips of glass – those are to be stringed on the waxed beading string later on). Wait till the glue hardens.



Fold your beading string in half and pass the loop through the pebbles hole, from front to back side. Pull the loop out from the other side of the pebble. Then take the two free ends of your beading string and pass them together through this loop – pull both strings at the same time, so the loop tightens.

Make a simple knot over the loop, holding both strings with your fingers (If you don't know how to make this knot you'll have to learn how, otherwise you won't be able to fix your pebble in the place it should be). Push the knot as close to the pebble as possible, pulling at the same time both strings , so it tightens. Bravo! You've secured your pebble in the right place.



Now let's finish the necklace. Make a simple knot on each string of your necklace. String a glass bead and make a knot again. Repeat and string another glass bead, a white pearl and another glass bead. After you've strung these 3 beads make a knot.

Follow the pattern, for both strings of your necklace. You should be left with 2 light blue and round glass beads, which you'll use in the next step.

After you've strung all your beads, after the last knot you've made on both strings, measure 1.2 inches and make a loop with a knot, leaving a free-end string . String your last glass bead on this string and make a knot close to the bead. Then trim off any string in excess.



Pass the ribbon pieces through the waxed string loops you've made on each string end and make a tight ribbon knot that holds the ribbon and the string loop together.



Now cut the ribbons to the length you desire, so as to tie them in a charming bow on the back of your neck.
Tips:
I've used organza ribbon for this project but the best to use, that makes a really neat and sturdy bow is satin ribbon.
Instead of beach-glass pieces and chips you can use green agate or green aventurine chips.
Your Recently Viewed Projects
Join our community of 5 million crafters!
Get free craft projects, exclusive partner offers, and more.
Thank You for Signing Up!
There was an issue signing you up. Please check your email address, and try again.