30 Minute Yarn and Wire Jewelry
In the time it takes to watch your favorite show, you can create 30 Minute Yarn and Wire Jewelry from Tiffany Windsor. Yarn craft ideas have never looked this cool. Create a bangle bracelet and a set of dangle earrings that are fun, colorful and completely unique.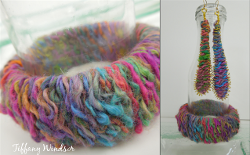 Materials:
Aleene's Tacky Dot Singles
Aleene's Turbo Tacky Glue
Fancy yarn – be sure to select a bulky thick yarn for this technique
Wooden or plastic bangle bracelet
Scissors
Craft wire – 22 gauge
Wooden skewer, chop sticks or knitting needle (to coil wire)
Wire cutters
Jewelry pliers
Fish hook earrings
Instructions:
To cover bracelet, cut long length of yarn and wrap into ball. This will make it easier to wrap around bracelet.

Stick one Tacky Dot on inside of bracelet. Stick end of yarn into Tacky Dot and begin wrapping yarn around and around bracelet. Keep the wrapping close so that you cannot see the bracelet underneath.

When you have covered the entire bracelet, cut yarn and glue in place on inside of bracelet with a dab of Aleene's Turbo Tacky Glue.

To create earrings, leave about 3 " length of of wire (which will be used to create jewelry loop at top of earrings). Begin wrapping wire around and around skewer until you have approximately 60 coils. Leave an additional 3″ length of wire. Cut and remove coil from skewer. Repeat to create 2nd earring coil.

Holding the two pieces of coiled wire side by side, gently pull to separate coils.

Loop cut ends of wire to create leaf shape. Twist two ends together to secure. Repeat for second earring.

Leave approximately 2″ length of yarn. Beginning at top of earring (where wires are twisted) begin wrapping yarn around and around and guide yarn into each coil. Note that as you wrap, the leaf shape will elongate into a long petal. When you reach the end, loop underneath bottom coil and bring yarn end back up to the top of earrings.

Glue length of yarn up center back of earrings. Tie ends of yarn together in knot at top of earrings. Add dab of glue to knot and cut off excess. Repeat to make matching earring.

Using round nose pliers, create loop at top of earring with excess wire. Hold loop in pliers and wrap wire around and around below loop. Cut away excess wire. Repeat for second earring.

Attach fish hook earring to loop.
Your Recently Viewed Projects