Totally Tubular Pumpkins
We all have a pile of socks that have lost their mate. If you have a lonely tube sock, you can easily make these Totally Tubular Pumpkins. With these upcycle crafts, Halloween decorations can be original and adorable!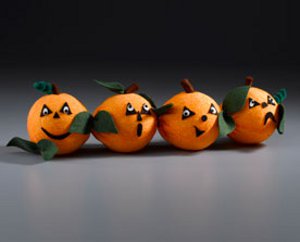 Materials:

4 3" STYROFOAM™ Brand Foam balls
Tube sock, man's large
Fabric dye, orange
Floral wire, green
Felt: green, brown, white, black
Chenille stems, green
Wire knippers
Scissors
Straight pins
Sharp pencil
Needle
Green thread

Instructions:
Following instructions on package, dye sock orange. Let dry.

Insert foam ball into sock and push down to toe. Pull sock tight around ball and wrap a 2-1/2" length of green floral wire around sock; twist closed. Tuck wire ends into foam ball.

Repeat with remaining balls, positioning balls as close together as possible.

Cut off the excess sock, leaving a 3/8" tail. Remove the last wire. Using a sharp pencil, make a hole in center of exposed ball. Add glue to hole and firmly push sock fabric into hole. If needed, hold in place with straight pins till glue dries.

Arrange the four pumpkins so they're sitting in a straight row. Gently press each ball to flatten the bottom to prevent rolling.

Cut from green felt 5 sets of double leaves. Stitch through the connecting piece between the two leaves and pull the thread tight to shape the leaves. Knot securely.

Glue a set of leaves between the pumpkins and at either end. Cut a double leaf apart and attach to the top of a pumpkin, if desired.

Cut four 1-1/2" x 1" strips of brown felt; roll into tubes and glue ends. Insert pencil into top of each pumpkin, making hole. Place glue in hole and insert stem; hold in place with pins till glue dries.

Wind a 2" - 3" length of chenille stem around pencil. Insert curled stem next to felt stem.

Cut fun faces from black and white felt. Glue in place.

Your Recently Viewed Projects
Join our community of 5 million crafters!
Get free craft projects, exclusive partner offers, and more.
Thank You for Signing Up!
There was an issue signing you up. Please check your email address, and try again.