Your guests will be buggin' over this painted pumpkin complete with wings. Using acrylics, googly eyes and pumpkins, this cute decoration can be all yours. Put it up every year.
Check out this project and more ideas in 17 Pumpkin Patterns: Free Projects for Halloween!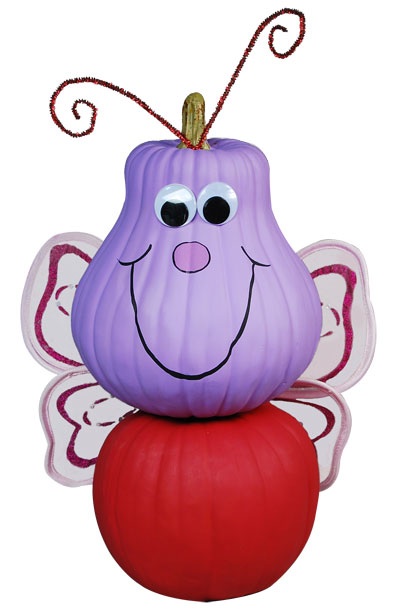 Materials:
Americana Spray Sealers DAS13 - Americana Matte Spray
Multi-Purpose Sealer DS17 - Multi-Purpose Sealer
Americana Brushes DBF2575-B - Flat 3/4"
Americana Brushes DBL1000-B - Liner 0
DecoArt Products Americana Acrylics DAO67 - Lamp (Ebony) Black
DecoArt Products Americana Acrylics DA272 - Purple Cow
DecoArt Products Americana Acrylics DA276 - Razzle Berry
Water container
Palette or plastic plate
Paper towels
Butterfly wings (1 set)
Large google eyes (2)
Red foil chenille stems (2) curled for antennae
Low-temp hot glue gun and glue sticks
Large wide-bottomed pumpkin
Medium-sized round pumpkin

Instructions:
Prime pumpkins with Multi-Purpose Sealer.

Basecoat round pumpkin Razzle Berry and wide bottom pumpkin Purple Cow.

Mix small amount of Razzle Berry into Purple Cow. Paint oval on Purple Cow pumpkin for nose.

Use liner brush and Lamp Black to paint mouth.

Mist pumpkins with Americana Matte Spray Sealer.

Position and adhere google eyes and chenille stem antennae.

Adhere pumpkins together.

Tie or glue wings onto back of body.
Your Recently Viewed Projects