Pill Bottle Crafts: Reuse Pill Bottles [11 Ideas]
A pill bottle survival kit is just one of many options for recycling pill bottles.
By:
Dana Byerwalter, Editor, FaveCrafts.com
Updated April 06, 2018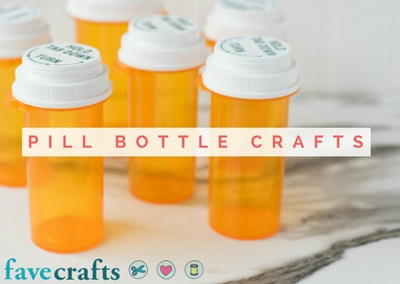 Billions of prescriptions are filled every year, and those prescriptions come in those little orange plastic bottles we're all familiar with. What you might not know about these bottles is that only some recycling centers and initiatives take them.

These orange plastic bottles are made from #5 plastic, polypropylene, which is not accepted by many curbside recyclers. One program, Gimme 5, is an opportunity to recycle #5 plastic including these containers. Here you can learn more about them Gimme 5 Recycling.

One other way to keep those pill bottles out of the trash is by recycling them into pill bottle crafts! Learn all about crafting with pill bottles in the article below.

Did you know that the bottles are tinted because light can damage some medications? That tint can come in handy with some of the excellent pill bottle crafts below. Learn how to paint, decoupage, create miniature storage, and more with pill bottle projects.
How to Remove Labels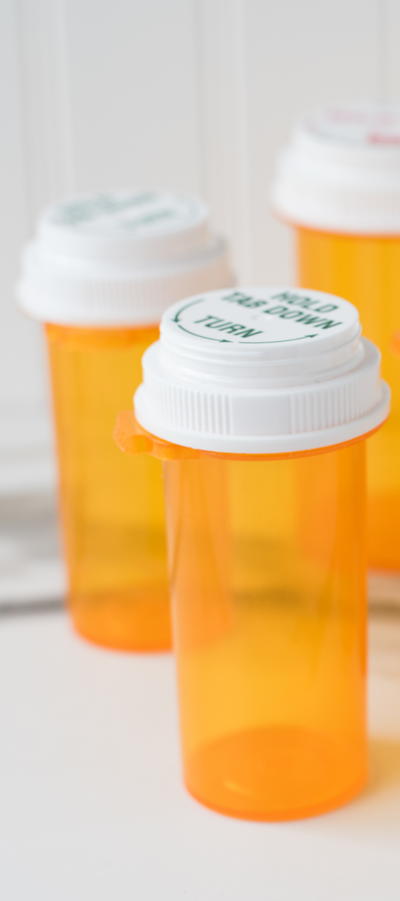 There are several products you can use to remove labels. Often you want to begin by pulling off the label to the best of your ability.

Try removing labels by doing any of the following:

1. Soak the label in warm, soapy water.

2. Remove the sticker by scrubbing with any of the following: rubbing alcohol, a degreasing agent like WD40, lacquer thinner, nail polish remover, or oils from cooking oil, vegetable oil, or even peanut butter or mayonnaise!

3. Remove goo using a warm water and baking soda combination. You can learn more about this method by visiting our article on How to Remove Labels from Wine Bottles: 2 Solutions. You can also use products like Goo Gone to remove adhesive.

If you'd like to remove the sticker in one clean piece, you can try the following:

1. Fill the pill bottle with boiling water. Screw the lid back on and wait 5 minutes. The sticker should peel off.

2. Use a hairdryer to heat the sticker for a few minutes, then peel off.
How to Cut Up Pill Bottles
Some pill bottle crafts involve cutting the orange plastic into smaller pieces to create unique jewelry or embellishments for other projects.

Try any of the following ways to safely cut plastic:

1. Use tin snips. These come in a variety of sizes and are great for cutting through thick plastic.

2. Use a hot knife or heated blade. You will want to do this outside or in a well-ventilated place as the fumes emitted by the hot plastic could be dangerous.

3. Use a Dremel rotary tool. This will be a more expensive tool but the quickest and easiest way to cleanly cut the plastic.

Avoid cutting plastic bottles with:

1. Scissors. This may be a fine option if you're only cutting one bottle, but after a few your hand will begin hurting.

2. Craft knife: the thin blade means a slow process for cutting plastic bottles, and your hand may slip more easily than with some of the other blades mentioned above.
Priming the Plastic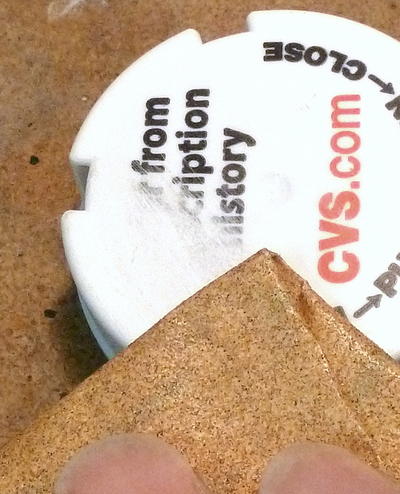 When you are painting these pill bottles or perhaps decoupaging them, you'll want to ensure the material sticks!

Prepare the plastic for painting or adhesive by:

1. Cleaning the label off with any of the methods mentioned above and let it dry.

2. Sand the plastic so the plastic will have "teeth" for the paint or adhesive to best adhere.

Photo Credit: Michelle from michlinla.com.

Use paints that are designed for outdoor use or plastics specifically. These include plastic spray paints (great if you're painting multiple pill bottles at once!), multi-surface acrylic paints, and more.

Find more excellent tips for painting on plastic in Amanda Formaro's article, Tips for Painting on Plastic.
Pill Bottle Crafts for Storage and Organization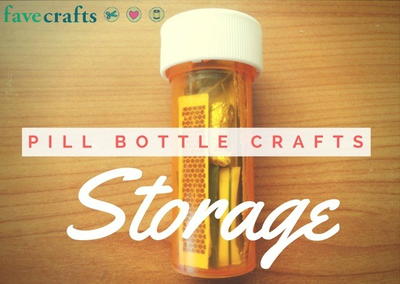 Pretty Pill Bottle Kit
When asked what to do with all those empty pill bottles, crafter Maria Nerius suggested turning them into a mini kit of some sort! This can be for storage or for a gift. One example she gives is a souvenir "Island Survival" kit: a small pill bottle containing 2 aspirin, one fish hook, and a match. In her tutorial, she explains how to decorate such a pill bottle.

"You could make all kits of fun kits with your pill bottles. A sewing kit with a little white thread, a sewing needle, a button, and a thimble. A sweet tooth kit with some candies. An on the road emergency kit with some change, a handy wipe, a list of tow trucking companies. Have fun with it." -Maria, FaveCrafts.com/blog/fc/
Pill Bottle Survival Kit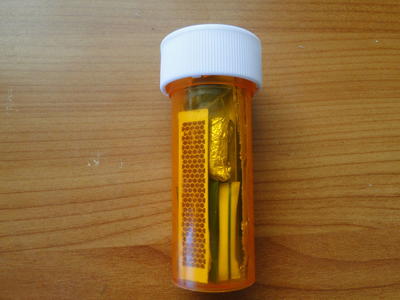 You can make something wildly useful with pill bottles, and that's the pill bottle survival kit. It's amazing how many small items you can fit in pill bottles for survival purposes down the line. Pill bottles are nice and small as well, so this kit can easily fit inside a purse or pocket. 
Recycle Pill Containers into Organizers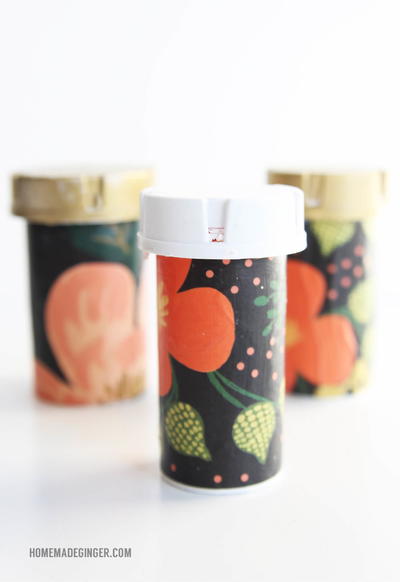 Turn your pill bottles into surprisingly cute organizers with this decoupage tutorial! It's amazing what you can fit inside these pill bottles. A mini first aid kit can come in handy when you store bandages and more inside for example!

Image Credit: homemadeginger.com and modpodgerocksblog.com
Pill Bottle Crafts for Decorating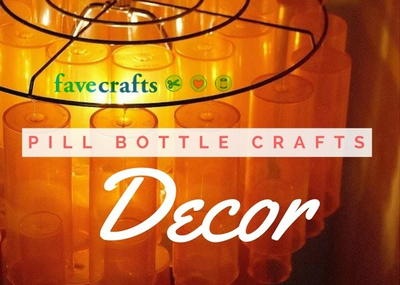 Stunningly Beautiful Pill Bottle Lamp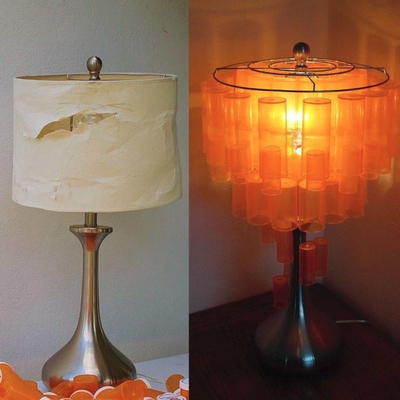 Can you believe you can make this lamp out of pill bottles? If you have a serious stash, this is the perfect project to make. Upcycle that old, torn lampshade for something trendy and beautiful.

Designer Emily Seilhamer says, "The shadows when I turned on the lamp were such a happy accident!"

Image Credit: facebook.com/EmilySeilhamerArt
Upcycled Faux Bamboo Vase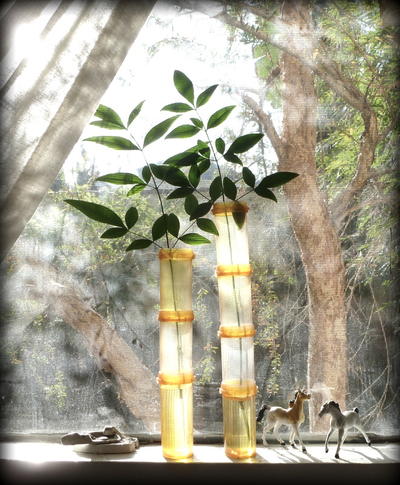 Can you even believe this is made from pill bottles? This classy upcycling project is the perfect simple centerpiece. I love the way the light pulls through the bottles when they're on the windowsill like they are in this photo!

Michelle from Mich L. in L.A. has several great tips for working with pill bottles, including:

1. Use sandpaper to erase the printed logo from the bottle cap.  Unlike alcohol, sanding also leaves the cap with a roughened surface that is better to paint or draw on.

2. When drilling a hole in the bottom of a pill bottle, make sure it's got support, because sometimes the brittle plastic can shatter.  If you have a long drill bit, drill down through the inside of the bottle.  If not, turn the bottle upside down over a wooden dowel to drill the hole.

Image Credit: michlinla.com
Halloween Potion Bottles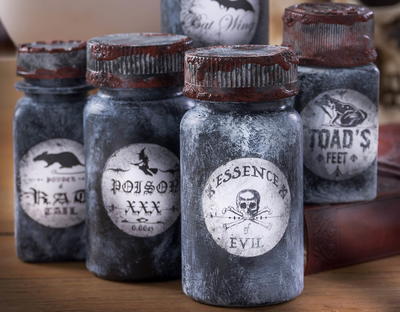 Learn how to turn your pill bottles into Halloween potion bottles for a spooky display. Rust paints, printable labels, and creepy finishes will make this a splendid painting and decoupage project with your pill bottles!

Image Credit: modpodgerocksblog.com
Pill Bottle Crafts for Kids and Adults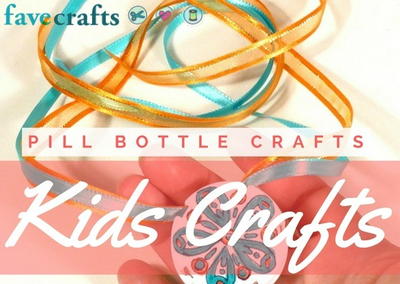 Prescription For An Upcycled Necklace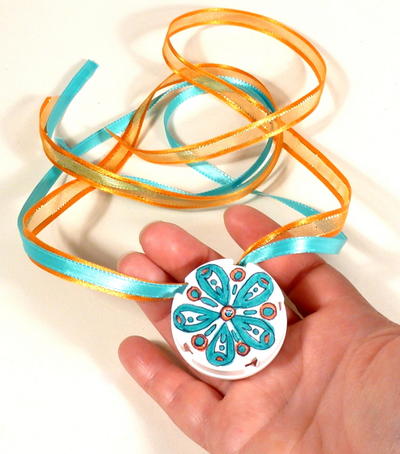 Perhaps after you've made some gorgeous crafts using pill bottles, save the caps to make this necklace with your kids. This is a wonderfully easy craft to make with little girls or even tweens. It's as easy as sanding off the writing from the pharmacy and drawing on the cap with permanent markers. Kids will love creating the unique designs! This is a great project to work on with kids as well because some of the steps are better for adults to help with, like adding the eye pin to make the dangling jewelry at the bottom of the cap. 

Image Credit: michlinla.com
Prescription for Love Gift Idea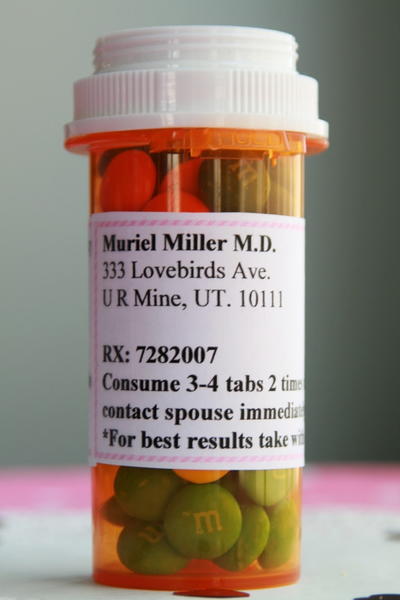 This is an adorable craft that we'd recommend for adults on Valentine's Day! Simply fill the pill bottle with colorful candy and create a pretend prescription label.

Image Credit: cookbakeanddecorate.blogspot.com
DIY Pill Bottle Firestarters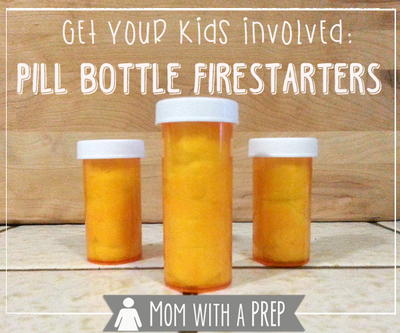 One excellent way to get the kids involved is by making pill bottle firestarters! This excellent tutorial will teach kids a little bit about science and camping. Learn what to include in a pill bottle to make sure your bonfire gets started!

Image Credit: momwithaprep.com
Pill Bottle Knitting and Crochet Patterns
Crochet Pill Bottle Cozy Patterns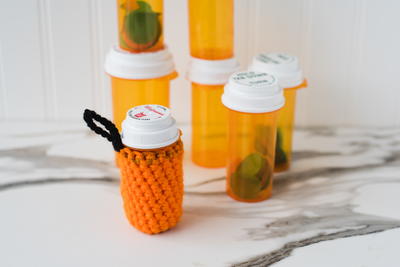 Learn how to crochet a cozy for your pill bottles. This pill bottle "accessory" if you will is handy for gripping the pill bottles more easily. If you're just a beginner to crochet, this is an excellent pattern for practicing crocheting in the round. The pattern works up very quickly and, best of all, there is a free PDF version you can download and print.

Download the PDF ​Crochet Pill Bottle Cozy Pattern.
Knit Pill Bottle Cozy Patterns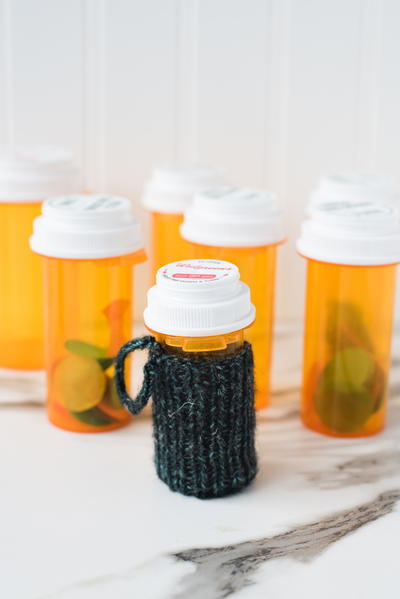 Learn how to make a knit cozy for your pill bottles. These pill bottle cozies are handy for finding your medicine easily in a purse, and you can even use the loop to add to a keychain. This is an intermediate knitting pattern worked on double pointed needles with fingering weight yarn. You can get this pattern on our site or download the PDF version.

Click here for the PDF download of this Knit Pill Bottle Cozy Pattern.
What else can you use pill bottles for?
Tags / Related Topics
Your Recently Viewed Projects
Images from other crafters

Free projects, giveaways, exclusive partner offers, and more straight to your inbox!

Report Inappropriate Comment
Are you sure you would like to report this comment? It will be flagged for our moderators to take action.
Thank you for taking the time to improve the content on our site.
Project of the Day
Envelop yourself in all your favorite memories with this Quilted Tee Shirt Memory Blanket. Perfect for showcasing all your favorite… See more

Something worth saving?
SAVE all your favorite crafts
ADD personal notes
QUICKLY reference your crafts