42 Easy Water Bottle Crafts
If you love recycling, and you're looking for easy water bottle crafts, this collection is for you!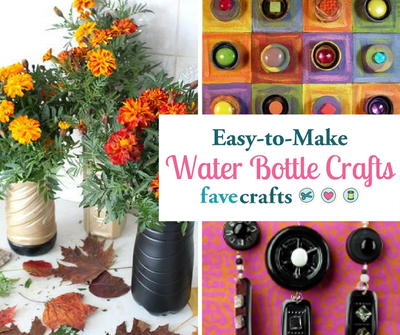 Water bottle crafts are excellent for recycled crafting. There are so many ideas for crafts made from recycled items, it's sometimes hard to decide which ones to try. We've rounded up Easy Water Bottle Crafts that are so fashionable, handy, and fun, you'd never guess they're plastic bottle crafts! Read on to find great ideas for what to make with empty plastic bottles!

From trendy water bottle bracelets to bottle cap wall art, this collection of easy water bottle crafts offers ideas for recycled bottles that you can use in your everyday life. So if you're going green and want suggestions for bottle cap crafts, take a look at these easy projects, empty your recycling bin, and get to work on one of these eco-friendly projects!

----------
If you love these projects, be sure to subscribe to our newsletter to get amazing craft projects like these delivered to your inbox every day!
----------
Table of Contents
Plastic Bottle Decorating Ideas
Plastic Bottle Crafts for Organizing
Water Bottle Games and Toys
More Water Bottle Craft Ideas (From Our Readers!)
Cut the bottoms off of bottles that have 5 or 6 bumps on the bottom and paint them to look like snowflakes.
 
Use the 5-6 bump bottle bottoms to store small items, like jewelry and beads.
 
Cut the top off of liter bottles and use them as greenhouses by placing them over sprouting seedlings.
 
Use them to make birdfeeders.
 
Cut the bottoms off of water bottles and dip the bottle into soapy water. Blow through the hole where you would drink the water to create your own bubble blower!
 
Turn water bottles into a piggy bank. Cut a small slit in the top to place the coins and simply unscrew the top to remove the change inside.
 
Make your own lava lamps! Fill the water bottle about ¾ full with vegetable oil then add water. Add 10 drops of food coloring. Break an Alka-Seltzer tab into four pieces and drop one in at a time and wait for each to dissolve.
 
Decoupage some tissue paper on water bottles to create luminaries! You can cut the top or bottom of the bottle off and put a fake tealight inside for great outdoor décor for all kinds of parties.
 
Fill empty bottles with sand and place them in your knee high boots to keep them from falling over in your closet! This is a great way to prevent creases from forming in your shoes.
 
Make your own I Spy game by filling an empty bottle with rice, beads, buttons, small toys, and more. Shake the bottle and see how many things you can find in five minutes! This is a great game for road trips.
 
Use empty water bottles to store all your beads. This is storage and decoration all in one, since the colors of the beads shows through the plastic bottles. Group your beads by color and arrange on a shelf for practical and decorative storage!
Your Recently Viewed Projects