How to Make a Fairy Garden
From finding and making fairy garden accessories to picking out your plant, this full tutorial is full of fairy garden ideas to love.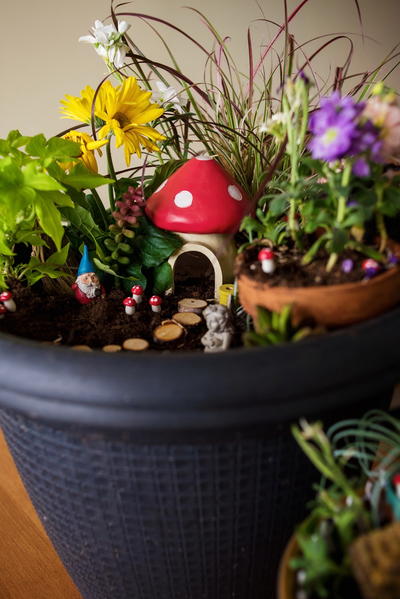 How to Make a Fairy Garden
Welcome the world of fairies into your life when you learn How to Make a Fairy Garden. Follow along with our fairy garden video and the full instructions below to create the cutest and most magical garden idea you can come up with. Fairy gardens, also known as miniature gardens, are small, self-contained gardens that feature adorable little accessories and fairy statues that combine to create their own precious, little world! Popular amongst crafters and gardeners alike, these garden ideas add playful and whimsical touches to your world and décor.

Creating fairy gardens is a fantastic activity to create with small children. Unilke some other kids' craft ideas, creating a fairy garden is genuinely enjoyable for mom and kids alike. Playing in the dirt, learning all about plants, and letting their little imaginations run wild, this outdoor activity makes a sunny day even sunnier. While making your own fairy garden is entirely about your own ideas and creativity, the tips below are absurdly useful. Keep scrolling to find some tips on what plants to choose for your garden, how to make or buy fairy garden accessories on a budget, and more.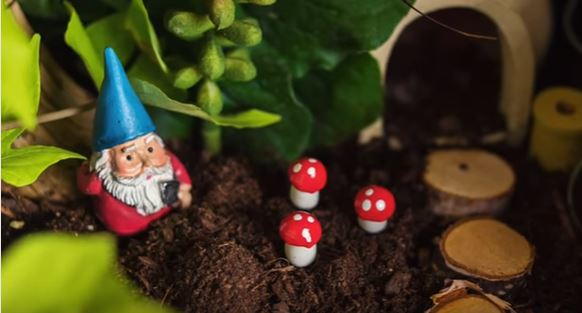 Fairy Garden Supplies and Accessories
Before you begin creating your fairy garden, decide where you are going to be placing your fairyland. This means deciding on a container. Whether you use a jumbo planter (like we did) or create something smaller in a terra cotta pot, your fairy garden size is going to determine what fairy garden accessories you are going to want to purchase and how many you will need. Since garden supplies and doll house accessories (what we often use for these DIY gardens) can be a little pricy, it is important to make this decision right away so you know how much to spend.

Once you have decided on your container or pot size, you will want to purchase your fairy garden supplies, decorations, and, most importantly, your fairy! Remember that a little goes a long way with these adorable creations, so don't spend too much money on these. Just a few cute, key pieces can really make your garden. Plus, gardens grow and clutter can inhibit that or just get covered up with bursting leaves in the spring.
You can purchase fairy garden accessories at most big box stores like Michaels or Hobby Lobby. They often have their very own section for this type of crafting. It is that popular! 

If not, many of the accessories you will want to you can be found in the doll house miniatures sections. Just keep in mind that if you are keeping your DIY fairy garden outdoors you will want to purchase accessories that can weather wind, rain, and other outdoor elements. 

Use your imagination to find fairy garden accessories. Fairies are clever and sneaky! They use everyday items to create their homes. You might have something in your junk drawer that is fab for fairies!

Tip: Treat these fairy garden accessories with sealants or outdoor Mod Podge to keep them looking spiffy for much longer!

We Used:
-Glass vase fillers (glass marbles) to create the pond
-A mushroom house
-Small toadstools
-Wood bits for the pathway
-Drift wood
-Miniature terra cotta pots
-A wooden spool
-A Fairy
-Driftwood 
Fairy Garden Accessories: Budget Friendly Ideas
While learning how to make a fairy garden is not that much more expensive than planting a garden, sometimes it can be hard to commit to spending a pretty penny on frivolous items. Try these budget-friendly ideas for a fairy garden.
Check out your local Goodwill or Salvation Army for items to use. Take a peek in the toy sections, home décor sections, and even the kitchen sections for unique items to use in your garden!

What's the difference between purchasing fish tank décor and fairy garden accessories? Honestly, about five to ten dollars. Check out sales at your local pet shop. 
Fairy Garden Plants: What to Plant
The types of plants used in fairy gardens differ widely from fairy garden to fairy garden. Purchase plants for your garden that you know will do well in your garden and in the space available. Abide by the following fairy garden plant rules to ensure an always-growing fairy wonderland.
Much like planting any other garden, you should choose plants best for your region and light availability. 

Pick smaller plants that you know will grow well in a pot. Ideally, nothing that sprouts up too fast and will have to be relocated. 

We used the following plants:
-Sweet potato vines (both light and dark varieties)
-"Fire grass" - but any tall decorative grass will work.
-Gerbera daisies
-Various small flowering plants (blue bonnets, lilac etc.)

Note: Thinking about recreating our fairy garden? Ours is living in the office (indoors) in a high light area and we are located in Northbrook, IL. High sun areas (like the Southern USA) might consider using other plants.
Fairy Garden Layout Tips and Tricks
Once you have decided on your plants and fairy garden accessories, it is time to decide on your layout! Fairy garden layouts can be pretty much anything you want them to be! The following suggestions should be kept in mind!
Pick a side to be the back because DIY fairy gardens are viewed from one direction. 

Place tallest plants at the back and work from there.

Layout plants first. Make sure there is no air pocket  in the soil when planting them.

Place fairy accessories and play around until you find a layout you love.

Add depth by adding different sized plants and smaller containers within the garden.
More Fairy Garden Ideas
Our how to make a fairy garden video and above tutorial shows you how to make a pretty standard fairy garden, but you can easily transform this garden idea into something smaller, bigger, or entirely unique with a little imagination. In fact, fairy gardens don't even have to be fairy-themed!
If you are looking to plant a fairy garden with your son or grandson, consider adding something they love to the garden. Who says a fairy garden can't feature dinosaurs, jungle cats, fake bugs, or other creepy crawlies?

Create a pop culture-themed fairy garden with keepsakes. Who wouldn't love a miniature Jurassic Park or Star Wars garden complete with Ewoks?

Pictured: The Jurassic Park DIY Terrarium

Live in a small space? No problem! You can easily create a tiny fairy garden with just one accessory in a tea cup.

If you have a ton of space, you could easily create a bigger fairy garden with large accessories to let your kids or grandchildren run wild in. 

Create holiday-specific fairy gardens or add cute Christmas craft ideas to your already-created indoor gardens to celebrate the holidays.

Pictured: Itty Bitty Glam Trees
Let us know:
If you were a fairy, what would you want in your garden?
Your Recently Viewed Projects