History of Easter for Crafters
As we crafters prepare to celebrate Easter with paper baskets, painted eggs and fluffy pom pom chicks, many of us might wonder the history behind why we celebrate Easter Sunday. Many Christians celebrate this holiday as a joyous rememberance of Christ's ressurection, but may not know how bunnies, eggs and the Easter lily came into the picture. Learn about the holiday in this article and find Easter craft projects, Easter songs, inspirational poems and more to celebrate, whatever your personal beliefs might be. For our best resource of Easter craft projects and recipes, check out our FREE Hop into Spring Easter eBook

Table of Contents
Christian Easter Song for Children

Bunny Easter Song for Children
Where does the Easter bunny come in?
How to draw an Easter Bunny

Easter Bunny Crafts
Religious Easter Poems and Verses
Short Poems and Easter Card Sayings
Hop into Spring Easter eBook- NEW!
For many of us, Easter is a time for painting eggs, eating chocolate and admiring bunnies. In modern times, Easter has become an increasingly secular celebration, in which people rejoice at the coming of spring and its promise of new life. Just as with Christmas, this move away from Easter's Christian origins can partly be explained by the diversity of people wanting to participate in the holiday. Nonetheless, many Christians would like to remind everyone of why we celebrate Easter.
Easter Sunday celebrates the resurrection of Jesus Christ three days after his crucifixion. Good Friday is a solemn church holiday which remembers this crucifixion of Christ on the Cross at Calvary. In the Roman Catholic church, Good Friday is marked with a fast. Many protestant churches mark the crucifixion on the Wednesday before Easter instead, coinciding with the sacrifice of the lamb in Jewish Passover. Lambs are a common symbol at Easter as a symbol for Christ, "the lamb of God."
On Easter Sunday, many Christians rejoice and sing at church services, made all the more special by the solemn remembrance before. Some Christians have developed other joyous Easter traditions, such as flying kites to symbolize Christ's rise to Heaven. In the happy tone of Easter, here are a few Easter songs especially for children.

Christian Easter Song for Children
This song is sung to the tune of "Mary Had a Little Lamb." Almost every child knows that song! Sing this song while kids make the Beaded Cross Easter Card.
"Jesus is alive today, alive today, alive today. Jesus is alive today, it is Easter morning!"

Bunny Easter Song for Children
This cute song is a great way to engage with young children on Easter. Sing this songs as you make Foam Egg Magnets.

Five Little Easter Eggs
Five little Easter eggs lovely colors wore,
(Hold up five fingers)
Mother ate the blue one, then there were four.
(Bend down one finger)
Four little Easter eggs, two and two you see,
Daddy ate the red one, then there were three
(Bend down one finger)
Three little Easter eggs, before I knew,
Sister ate the yellow one, then there were two.
(Bend down one finger)
Two little Easter eggs, oh, what fun!
Brother ate the purple one, then there was one.
(Bend down one finger)
One little Easter egg, see me run!
I ate the last one, and then there were none.
(Bend down last finger)
Christian missionaries noticed that their celebration of the resurrection of Christ occurred during pagan celebrations of the spring equinox. The pagan goddess of fertility and birth celebrated at this time was called Eostre. The missionaries adopted the celebratory tradition into a Christian holiday. Easter eggs are of course the classic symbol of fertility and have been associated with spring celebrations since ancient times. Classically, eggs were forbidden to Christians during the 40 days of Lent between Ash Wednesday and Easter and thus became an important part of the Easter celebration.

Where does the Easter bunny come in?
Just like the egg, the bunny is another ancient symbol of fertility and new life. One Anglo-Saxon myth says that Eostere changed a pet bird into a bunny which laid colored eggs to entertain children. The Easter bunny become a figure much like Santa, which brings presents to good children. In a German tradition, children would hide brightly colored nests often made from bonnets around the house for the "Osterhase" or Easter bunny to leave colored eggs. This has evolved into the tradition of hiding Easter baskets, nests and eggs themselves.
Crafters can celebrate the Easter bunny with this great step-by-step tutorial from Cartoon Critters on how to draw an Easter bunny, or these other great Easter Bunny crafts here at FaveCrafts.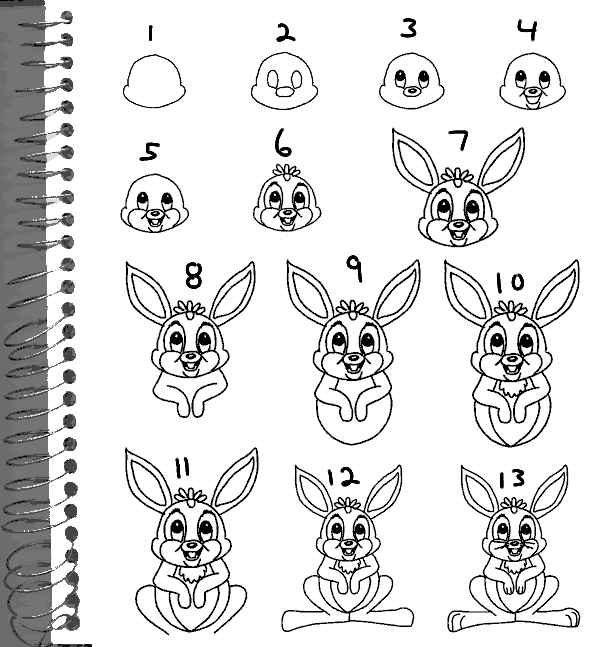 Christian tradition says that beautiful white lilies grew where Christ's sweat dropped to the ground when he was being crucified. The Lily of the Valley is one of the first flowers to open in the spring, thus closely associated it with spring celebrations and Easter. The lily is also a symbol of the Virgin Mary. Christ used the symbol of the lily in one of his most famous quotes:
"Consider the lilies, how they grow: they neither toil nor spin; and yet I say to you, even Solomon in all his glory was not arrayed like one of these. If then God so clothes the grass, which today is in the field and tomorrow is thrown into the oven, how much more will He clothe you, O you of little faith?"
(Luke 12:27-28; see also Mt 6:28-29).

Use these Easter poems, sayings and verses to fill homemade Easter cards, embroider a pillow or simply share with family and friends as you dye Easter eggs.

Free Religious Easter Poems, Quotes and Verses
"Easter says you can put truth in a grave, but it won't stay there." Clarence W. Hall
"Our Lord has written the promise of the resurrection, not in books alone, but in every leaf in spring-time." Martin Luther
"On Easter Day the veil between time and eternity thins to gossamer." Douglas Horton

John 11:25-26
Jesus said to her, "I am the resurrection and the life. He who believes in me will live, even though he dies; and whoever lives and believes in me will never die.

"Easter" by Kay Hoffman

Although it happened long ago,
that first glad Easter day;
within the true believer's heart,
it's just as real today.

The Roman guards who kept the watch,
the early morning gloom,
the angel's words, "He is not here"
resounding from the tomb.

And oh, the joy in Mary's heart
while in the garden fair
to see her blessed Lord appear
upon the pathway there.

Although it happened long ago,
it still is true today;
oh, let our hearts rejoice and sing,
the stone is rolled away.
May the spirit of hope that Easter brings,
Help you find contentment in little things,
And restore your faith in the Lord above,
Who gave His life for the ones He loves.

Short Poems and Easter Card Sayings
For renewal of life
For birds that sing
Thanks for Easter
Thanks for Spring

Easter brings the best surprises,
Baby chicks and buds in bloom
And Spring sunshine
That fills your room.
Easter brings the best surprises,
Baby chicks and buds in bloom
And Spring sunshine
That fills your room.
| | |
| --- | --- |
| In this FREE Easter eBook, you'll find over 130 pages of craft ideas for Easter and a complete collection of Easter recipes. Use these ideas to decorate your home, send Easter cards, entertain the kids and more! | |
Easy Easter Bonnet Crafts, Free Easter Cards, Religious Easter History, Videos, Tips and More
Easter Egg Decorating Crafts, Crafts for Kids and More
Tags / Related Topics
Your Recently Viewed Projects
Images from other crafters


Report Inappropriate Comment
Are you sure you would like to report this comment? It will be flagged for our moderators to take action.
Thank you for taking the time to improve the content on our site.
Project of the Day
Carry it all in your easy and breezy crochet summer tote. Just follow these easy steps in this free crochet pattern. See more

Something worth saving?
SAVE all your favorite crafts
ADD personal notes
QUICKLY reference your crafts
Sponsored Content