In this crochet video for beginners from Rebekah Fox, you'll see how simple it is to crochet a button cover. If you've got a lot of mismatched buttons or you just like the look of a crochet embellished button, you'll love this technique! Bring new life to your clothes and bags with this crochet button pattern.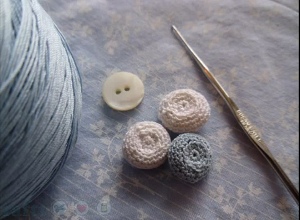 Materials:
One round button in any size or material
Crochet thread in size 20
Steel crochet hook in size 10
Tapestry needle
Sewing needle and thread
Video:
Instructions:
Make magic loop.
Round 1: 10 sc in loop, close loop.
Round 2: Sl st in first sc of rnd 1, ch 2 (counts as hdc now and throughout), hdc in same st as joining, * hdc in next st, 2 hdc in next st, repeat from * around. Join in 2nd ch of ch-2: 15 hdc.
Round 3: Ch 1, 2 sc in same sp as joining. Working in back loops, * sc in next st, 2 sc in next st, repeat from * around. Join in both loops of first sc: 23 sc.
Repeat rnds 2 and 3 until you reach the edge of the button. Remember to insert hook in both loops on rnd 2 and back loops on rnd 3.
Button Edge Round: Ch 1, sc in same sp as joining, sc in each st around; join.
Repeat Button Edge Round until you are halfway to the center of the button back. Weave in thread tail in center of work.
Decrease Round 1: Ch 1, * sc2tog, sc in next st, repeat from * around; join. Tip: If you don't have enough sts at the end of the rnd to make a sc2tog, sc in that st.
Repeat Decrease Round 1 until you are a couple rnds away from button center.
Decrease Round 2: Sc2tog around; join.
Repeat last rnd until back opening is very small.
Finishing: Cut yarn and leave a long tail (about 8 inches). Fasten off and weave thread through remaining sts of last round made by going from front to back of first st and back to front of next stitch; repeat. Gather sts together and pull tightly. Whipstitch opening closed. Weave in tail or leave to help sew button to knitted garment. With sewing thread, go up and down through button holes so crocheted covering will not shift.
Sew button to woven fabrics using sewing needle and thread. You can sew the button on like a shank button or through the button holes.
Your Recently Viewed Projects