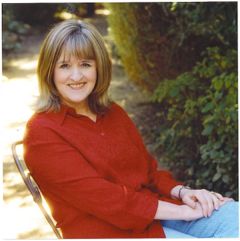 FaveCrafts is happy to welcome Heidi Borchers as a contributer to our ever-growing site. Here you can find her step-by-step craft projects, video tutorials and more. Also, look for her work in our free Quick and Crafty newsletter. Heidi Borchers was born into the crafting industry. As the daughter of Aleene Jackson, America's beloved "Mother of Crafting" and the inventor of Aleene's Tacky Glue, Heidi spent many of her childhood leisure hours in her mother's shop, gluing, creating, and learning. By the time she was a teenager, Heidi had become an accomplished artist, as well as an inventive designer.

In the mid-1990's, Heidi launched the largest selling craft book ever published, with sales to date in excess of $30 million. It was the first of a succession of "continuity" books called Aleene's Big Book of Crafts. Since then, many of her more than two dozen hard-bound books have been featured in Book of the Month Clubs across the country.

She launched her national cable television career as co-host of her mother's show, "Aleene's Creative Living" and remained a staple TV crafting personality for 15 years. Throughout her career, Heidi's designs have been featured in McCalls, Better Homes & Gardens, Creative Living, Craft Home & Style, Decorating Craft Ideas, Crafts N' Things and Inspired at Home.

A studio in the seaside town of Los Osos, California, is home to a sea of materials, finished designs, and works-in-progress. Whimsical faces, and original characters hang on the walls and peek out from behind hundreds of jars full of buttons, beads, fasteners, yarns, tiles and glues. Machines, tools, and equipment stand sentinel on long, sturdy tables, ready to be put into service. The studio is also a classroom, where Heidi holds regular design classes.

Heidi raised three children and now entertains a gorgeous gaggle of eleven grandchildren who visit often. Heidi's regular blogs can be found at Eco-Heidi Blog. Heidi is also a regular guest on FaveCrafts radio.
Inspired at Home announce Aleene Jackson Craft Museum
New Inspired at Home Radio Show
Heidi's Free Craft Projects on FaveCrafts:
Free Crafts for Spring & Summer
Free Crafts for Winter & Autumn
Mosaic Crafts
Free Jewelry Tutorials
Home Decor Craft Projects
DIY Totes & Bags
Free Crafts for Kids
DIY Fashion and Accessories
Heidi's Free Craft Video Tutorials
Your Recently Viewed Projects