101+ Free Beading Patterns
Find beading patterns for beginners and advanced jewelry artists alike in this collection.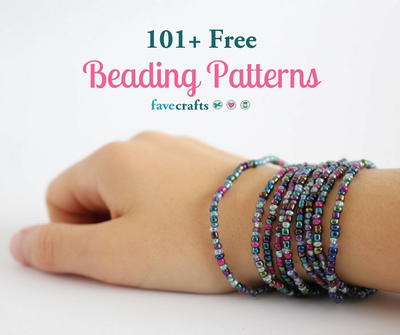 With this collection of free beading patterns, you can craft your own jewelry to match any outfit or make an impressive gift for any occasion.

You will find beadwork patterns for necklaces, bracelets, holiday jewelry, and more. Skill levels range from beading patterns for beginners to advanced beading projects.

----------
If you love these projects, be sure to subscribe to our newsletter to get amazing craft projects like these delivered to your inbox every day!
----------

BONUS Free Craft Video: Before you get started, learn all about the Different Types of Beads.
Table of Contents
Free Bracelet Beading Patterns
Nothing says creativity quite like beaded bracelet patterns. Whether you're new to the world of jewelry making or a total expert, you can't go wrong with a simple handmade bracelet.

Make a DIY bracelet for yourself and wear it every single day. You can also make a matching one for a friend and give it as a meaningful gift on a birthday or during the Christmas season. The great thing about making bracelets is that you can really make a huge variety and have one to wear with every outfit.
Why buy beads when you can make them yourself? Use newspaper to create beads that can be used for bracelets, necklaces and more. These 11 Ways to Make Newspaper Beads are perfect for anyone who wants to go green. Get the collection:11 Ways to Make Newspaper Beads
Free Necklace Beading Patterns
Create standout necklaces! Give your creation to someone special in your life - they'll want to wear it forever. You can go back in time with a vintage pattern or fast forward with a futuristic design. Better yet, make one of each - a beaded necklace always makes a statement!
Free Earring Beading Patterns
Make a big, bold statement with a pair of handmade earrings. Your accessories can be loud and wild or understated and elegant - it's up to you. Be sure your creation matches your style so you feel comfortable and confident when you wear them.

If you've never tried your hand at making earrings before, give it a whirl with any of these tutorials. Earrings are great practice for getting used to beading patterns because you have to make two of them!
Beaded DIY Gift Ideas
A beaded gift is such a fun idea for a birthday or during the holiday season. They are so much fun to make. Make rings, a suncatcher or even a bookmark - there are so many crafty ways to use beads. This year, say you care with any of these free beading patterns.
If you love beading patterns for the holidays, our collection of 27 DIY Beaded Ornaments is for you! Ranging from projects for kids to general jewelry ornaments to everything in between, this collection is perfect for jewelry makers who'd love to add a little sparkle to the tree. Get the collection:42 DIY Beaded Ornaments
Beaded Anklet Patterns
Beading patterns for anklets are perfect for summer and make great gifts for adults and little girls. Wear one with a pair of flip-flops and shorts when you hit the beach. Learn how to make jewelry that you can wear with a fancy dress or a casual swimsuit - anklets look good no matter what.
Free Home Decor Beading Patterns
Change the way you look at beading patterns by adding some to your decor. Did you know you can create pillows, lamps and even coasters using beads? These projects can really change the look of your space and add a touch of sparkle.
Beaded Brooch Tutorials
Brooches might seem old school, but these are anything but dowdy. Make your own and attach it to a scarf or top for an unexpected dose of fun. This is something both you and your granddaughter can wear with pride. In fact, jewelry projects have never looked so good. Make a beaded brooch to dress up any jacket, scarf, or cardigan.
The heating and flattening technique used in this project produces a fluid, unpredictable design that is the key to free-form shapes. The combination of metal and beads make this a true creative feat. Make something that really sticks out from the crowd.

Get the Tutorial
Let your heart sing with this Flying Heart Brooch. This eclectic beading pattern uses many different beads to create a wearable masterpiece that you will love to show off. 

Get the Tutorial
Learn how to make jewelry and trendy accessories like this pretty pearl bow, which can be pinned to a shirt, bag, hat, or anywhere you can think of! Go out in style with these free jewelry patterns.

Get the Tutorial
Bead Projects for Kids
Think beads and kids don't mix? Think again! Easy patterns are a great option when crafting with kids. As long as kids are adequately supervised, there's no need to worry! Get creative and spend the afternoon creating cool crafts.
Free Holiday Beading Patterns
Find a free beading pattern for the holiday season, Halloween or even the Fourth of July! Think outside the box and look for beads that correspond to your favorite holiday. Make ornaments, earring patterns and even a bookmark - it's up to you! Crafts can really help you get in the spirit of the holiday you're celebrating.
Free Ring Beading Patterns
Get creative and wear your love of beading on your sleeve...well, almost. A beaded ring may seem complicated to make, but it's actually a super cool idea. Test your skills with this free beading pattern for a ring.
If you want to learn how to make jewelry but need to try something small first, look no further than this project.

Get the Tutorial
This beaded ring is fun, easy and perfect for upcoming holiday parties.

Get the Tutorial
Everyone will compliment for handmade design and will ask where you got such a beautiful piece of jewelry. Rings always make a statement, but this ring is a true standout.

Get the Tutorial
BONUS: Learn How To Bead!  If you are new to beading, these illustrated articles will help illustrate the common techniques.

1. Learn how to string with beading cable and use this technique for future projects.
2. Once you've mastered that, it's time to move on to making wire-wrapped head and eye pins.
3. The last step in your quest to learn how to make jewelry is making loops at head and eye pins. By the time you're finished you'll be an expert.
Your Recently Viewed Projects
Join our community of 5 million crafters!
Get free craft projects, exclusive partner offers, and more.
Thank You for Signing Up!
There was an issue signing you up. Please check your email address, and try again.