Print This Post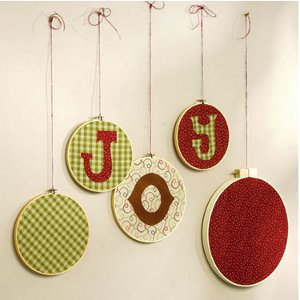 One of my earliest crafting memories is learning how to use the embroidery hoop.  My great-grandmother, who was a master sewist and knitter, had a large assortment of embroidery hoops that she gave to my mom after she moved to Florida.  My mom spent several days teaching me how to use the embroidery hoop and how to sew and embroider patterns onto fabric.  I had remembered watching my great-grandmother embroider and I loved the poetry of her movement…how she effortlessly created all kinds of embroidered napkins, pillowcases, and handkerchiefs by simply pulling a needle and thread through the fabric.
When I got old enough, I created my very first embroidered pattern, which was a haphazard dedication to Harry Potter.  When I stumbled upon this project a few years ago, it brought me to tears and I instantly hung it above my bookshelf, where it sits today.
As I sat looking at one of the first things I ever remember making, I wondered what else I could do with my great-grandma's embroidery hoops.  I have a variety of hoops in different sizes…so I did some exploring and gathered up a few of my favorite embroidery hoop projects for you to enjoy!  Whether you use them to embroider or decorate your home, these plastic and wooden hoops can do wonders for your home decor.  Projects like the Jolly JOY Ornaments make for a quick and easy Christmas decoration…and the Embroidery Hoop Bulletin Board is a great way to keep your life organized.
No matter how you use them, these fun embroidery hoop ideas are sure to give you a reason to dig those old hoops out of your craft stash!  Enjoy!
BONUS!!  We have a great giveaway lined up for you!  Scroll down for more info!
18 Ways to Use Embroidery Hoops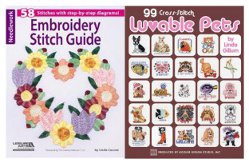 Bonus!  We're giving away copies of Embroidery Stitch Guide and 99 Cross Stitch Luvable Pets to one lucky winner!  Filled with lots of great embroidery patterns, these books are great for those who love making art with a needle and thread.  You have until July 25th to enter, and you can enter to win once a day…so the more you return, the greater your chances of winning this awesome giveaway.  Head on over to the giveaway page and register to win today!  Good luck!
FaveCrafts.com is a website with all the craft project ideas, tutorials, videos, and tips you'll ever need! We add new projects and tips every day. Some of our readers' favorites include Christmas Crafts, Free Knitting Patterns, Free Crochet Patterns and Crafting with Kids. You will find step-by-step instructions, videos and patterns to make it quick and easy.
Latest posts by FaveCrafts (see all)
Share and Enjoy
Print This Post