Spring and summer are not far away (hopefully!), but that doesn't mean there won't be a few cooler evenings scattered into the mix.  If you're planning an outdoor dinner party or are enjoying an outdoor music festival in the summer, chances are the weather will cool off quite a bit, and there's no better way to keep warm without overheating than to use a lightweight shawl.
These 13 Sensational Spring and Summer Shawls are perfect for those slightly cool evenings where it's too warm for a jacket but too cool to go without a little sweater.  With lots of designs and styles to choose from, these beautiful shawls are sure to suit outfits of all kinds, from everyday tee shirts and jeans to elegant summer weddings or concerts.
These shawls are also super quick and easy to make.  There are both knit and crocheted shawls in this collection, so no matter what your preference, there's bound to be something you can make here.  Shawls are also great for beginners since they often only require 1 skein of yarn and are made up of simple stitches that descend after each row.
As an added bonus, we're also giving away a copy of Free Spirit Shawls, a beautiful book filled with the most amazing shawl patterns you've ever seen.  The artistic designs in this collection will inspire you to completely revamp your wardrobe!  Scroll on down for more information on how you can win this beautiful book!
13 Sensational Spring and Summer Shawls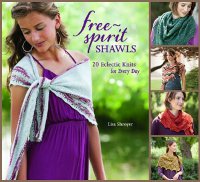 BONUS!  Still can't get enough shawl patterns?  Well, be sure to enter to win a copy of Free Spirit Shawls, filled with amazingly beautiful knit shawls that you can make for year-round warmth.  You have until April 11th to enter, so head on over to the giveaway page and register to win today!
Like free stuff?  Be sure to enter to win our other awesome giveaways, going on now!
FaveCrafts.com is a website with all the craft project ideas, tutorials, videos, and tips you'll ever need! We add new projects and tips every day. Some of our readers' favorites include Christmas Crafts, Free Knitting Patterns, Free Crochet Patterns and Crafting with Kids. You will find step-by-step instructions, videos and patterns to make it quick and easy.
Latest posts by FaveCrafts (see all)
Share and Enjoy