Real talk: as much as we all love quilting, we don't always love the hassle. So much time is spent cutting, piecing, marking, designing … all the little chores that are part and parcel of making a beautiful quilt. To be honest, sometimes quilting can be cause for therapy as much as it can act as therapy! Luckily, the editors here at FaveQuilts spend most of our time hunting down fast, easy quilt patterns and quilt patterns for beginners so that even the most inexpert among us can make beautiful quilts without too much effort.
So, for those long days when you just need to do something that's creative but a little mindless, we've put together this list of easy scrap patterns that you can make without having to purchase new fabric or even leave the house at all.
Scrappy Quilt Block Patterns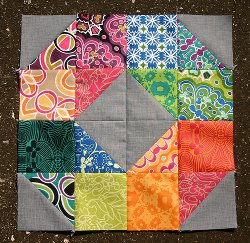 Quilt blocks are a great way to use up your scraps. Whether you turn just one into a coaster, or a few into a placemat, you can whip up some truly beautiful work with minimal time and effort. Blocks like the Color Wheel Block are ideal for using up those too-small scraps that you haven't been able to use but can't bring yourself to throw away.
1. Color Wheel Block
2. Twinkle Twinkle Scrappy Star
3. Scrapbuster Rail Fence Block
4. Staggered Strips Scrap Quilt Block
5. Scrappy Rainbow Star Block
Scrap Quilt Patterns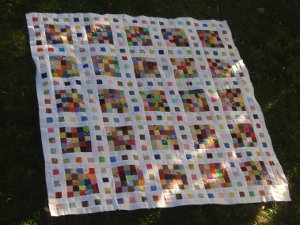 Have more scraps than you have need for new placemats? We know the feeling. Sometimes that stash pile can get so big that there's nothing for it but a full-size quilt. Try one of these beautiful scrap quilts, like the Film at Five Scrap Quilt Pattern, which are guaranteed to use up a ton of fabric without causing too much of a headache!
1. Film at Five Scrap Quilt Pattern
2. Scrappy Ocean Waves
3. One Color Scrappy Baby Quilt
4. 11 Patch Scrap Quilt
Easy Quilt Patterns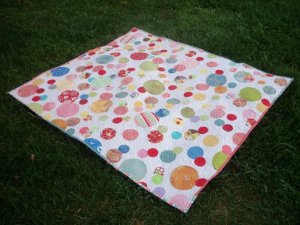 And here they are: the easiest of the easy! All these patterns, from Charlie the Elephant to the Clever Bargello Block, are impossibly easy. Sit back, relax, and let the process of quilting these projects give you the quilt therapy you've been looking for.
1. Charlie the Elephant
2. Clever Bargello Block
3. Scraptastic Quilted Tote
4. Bubbly Quilt
Want more awesome scrap patterns? Head over to our Top 10 Free Scrap Quilt Patterns page — now with 10 new favorites!
BONUS: Check out these gorgeous quilt patterns from Lunden Designs! Finding fabulous quilt patterns with detailed step-by-step instructions can be difficult.  Find detailed instructions to guide your quilting inspiration in any of the patterns from the Quilt Pattern Bundle from Lunden Designs. These booklets include extensive instructions for making unique and lovely quilts in up to four different sizes. Ranging from chevron patterns to modern designs perfect for a baby's nursery, these quilt pattern booklets will inspire you to make a quilt that you've never made before.
Enter today for your chance to win! The deadline to enter is March 18 at 11:59:59 p.m. Eastern Time.
See the complete Quilt Pattern Bundle review here.
Whether you're just learning to quilt or you're a seasoned veteran, FaveQuilts has the free quilting patterns and charts you need! Create Jelly Roll quilts, tote bags, baby bibs, even quilted jewelry.We have a bustling community of quilters just waiting to share their ideas with you and welcome you into the family.
Latest posts by FaveQuilts (see all)
Share and Enjoy