Get organized for 2014 with these awesome organizational crafts!  Great for getting your work and personal life in order, these projects could really be used in the kitchen, in the office, in the bedroom, bathroom, closet, laundry room and so much more.  Best of all, many of these organizational ideas are also super thrifty…so you can work through your craft stash and get organized all at the same time!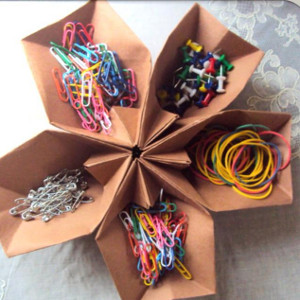 Keep little things on your desk organized with this Star Origami Organizer.  This cute origami paper craft is a great way to store paper clips, thumb tacks, rubber bands, clips, and more.  You could also use it to store little craft supplies or smaller hair accessories.
Teens and adults alike will love this adorable Jean-ious Pocket Organizer.  Great for keeping your essentials organized, this wall hanging or locker organizer is made with denim pockets, so it's great for storing everything from little notes to pens and other supplies.  And if you love that organizer, you're sure to love this awesome collection of 27 Craft Organizers.
As a special bonus, we're also giving away three page-a-day calendars specifically designed for the crafter!  If you love crochet, knitting, or quilting, you'll want to check out this giveaway!  Scroll on down for all the info!
12 Organizational Ideas for 2014
BONUS!
Enter to win the Crochet, Knit, or Quilting Page a Day Calendar!  Each calendar comes with a great collection of patterns and tutorials, so you'll have something crafty to make every day of the year!  You have until December 24th to enter, and you can enter to win once a day…so the more you return, the greater your chances of winning one of these awesome calendars!  Head on over to the giveaway page and register to win now!
Like free stuff?  Check out our other weekly giveaways, going on now!
Share and Enjoy