22 Free Crochet Patterns: Afghan Patterns, Crochet Hats, and More
Bonus: Get our newsletter & special offers for free. We will not share or sell your email address. View our Privacy Policy

A Tutorial: How to Crochet with Free Crochet Patterns and Videos
By: Caley Walsh
Video tutorials and free, easy crochet patterns are a great way to learn how to crochet, without having to pay for books or classes. Use this guide to learn about crochet, the basic stitches, crochet abbreviations and more. Find free patterns for crocheting for beginners. Seasoned crocheters can peruse the collection of easy patterns.

Table of Contents
About
Beginning Crochet Part One
More Beginning Crochet Video Guides
Our Favorite Free Crochet Pattern for Beginners
Crochet in the Round
Our Free Crochet Pattern for Crochet in the Round
More Free Crochet Patterns
Crochet is the gentle craft of creating fabric through interlocking loops of yarn with the help of a crochet hook, a slender rod with a little hook at the end. Crochet is different from knitting because it uses the one hook instead of two knitting needles and you only work one crochet stich at a time (the active loop on the hook). Pronounced "croshay," crochet comes the French word croc or croche, meaning hook.

Beginning in the 1800s, crochet was used as a less costly substitute to lace in many parts of the world and became a thriving "cottage industry" particularly in France and Ireland. In the 1840s, the first crochet patterns were being published. Queen Victoria proudly purchased Irish-made crochet lace, bringing popularity to the craft. A resurgence in the popularity crochet came after World War II with increased interest in home crafts and the publication of more non-lace patterns with thicker yarn.

Beginning Crochet: Part One

To begin crochet, all you need is a basic, medium sized crochet hook and some yarn. Although offered in a variety of materials, popular crochet hooks are aluminum or bamboo, which is warmer to the touch and improves with oil from your hands. An "H" hook, which is size 8 or 5mm in British sizing, is often recommended for beginners and some cheap acrylic yarn. Here is some more information on yarn types.

Types of Yarn for Crochet
Yarn Weights

Crochet patterns use a large variety of abbreviations. Here are the most common and what they mean:

YO or yo or YOH (Yarn Over) - To yarn over means to bring the yarn over the hook of your crochet hook so that the hook can catch the yarn and draw it through the loop. Literally, bring the yarn over the hook.
ch - chain stitch
sc - single crochet
hdc - half double crochet
dc - double crochet
tc - treble crochet
st(s) - stitch(es)
sl st - slip stitch
sk - skip
dec - decrease
inc - increase
sc2tog - single crochet two stitches together
rem - remaining

To begin crocheting, you have to tie the yarn to your crochet hook with a slipknot. You wrap the yarn around the hook, bringing the end portion of the yarn on top into a working loop. Then you "yarn over" by bringing the bottom thread over the hook so that the hook can catch it, twisting, and pulling it through the loop. You don't want to pull the slipknot too tight. Use the image above to study how to hold the crochet hook and yarn. Here's a wonderful video on how to do a slipknot for crochet:



More Video Guides to Help you Learn how to Crochet

Beginning Crochet Part Two: How to Make a Foundation Chain

Beginning Crochet Part Three: How to do the Basic Crochet Stitches

Beginning Crochet Part Four: How to do a Slip Stitch, Add a Row and Add/Decrease Stitches

Beginning Crochet Part Five: How to Finish, Weave Ends and Seam

Use your newfound skills to whip up adorable crochet covers for a pair of boring flip-flops. This craft is so quick, it gives immediate pay-off for crochet beginners.
Our Favorite Crochet Pattern for Beginners: Crochet Flip Flops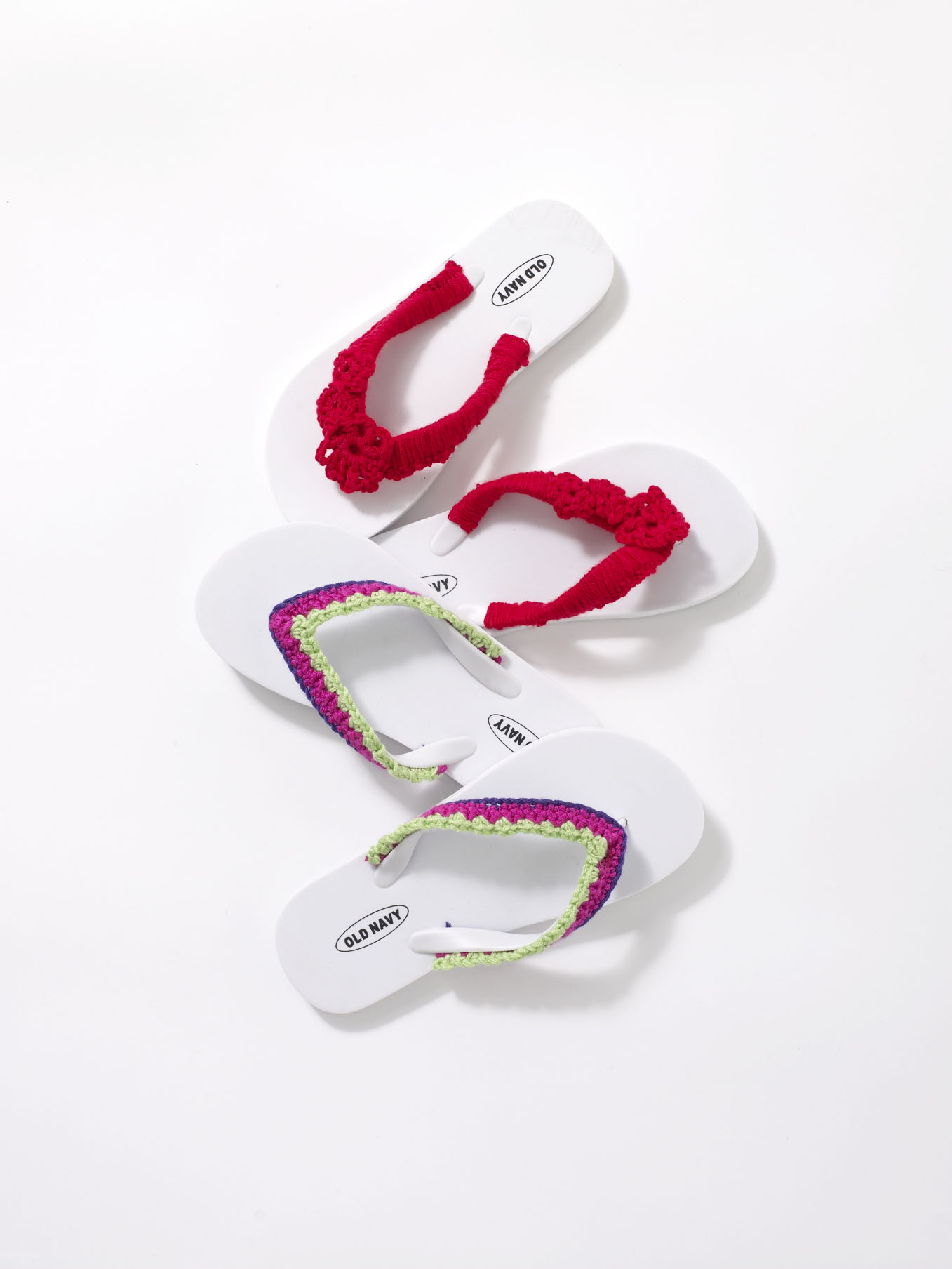 Supplies:
Lion Brand 910-113 Microspun: Cherry Red, 1 ball
Crochet hook Size H/8 (5 mm)
Large-eyed blunt needle (set of 6)
Craft glue
Gauge:
Gauge is not critical to this project.

Steps:
Make a slip knot.

Starting at edge of one strap and sole of flip-flop and holding yarn across the top of strap, reach under strap; catch yarn leading from the ball with hook. Yarn over and pull through both loops – single crochet made around strap of flip-flop. Repeat until strap is completely covered, ending at opposite side of flip-flop. Fasten off, leaving a 5 in. 12.5 cm end. Weave in ends.

Motifs: Large motif (make 1 for each flip-flop) Chain 5, join with a slip stitch to form a ring. Round 1: Chain 7, double crochet into ring, chain 4; repeat from 7 times; join with a stitch to top of beginning chain. Fasten off and weave in ends.

Small motifs (make 2 for each flip-flop): Chain 4, join with a slip stitch to form a ring.

Round 1: Chain 4, single crochet into ring, chain 3; repeat from 4 times; join with a stitch to top of beginning chain. Fasten off and weave in ends.

Glue motifs to flip-flops as desired.

Once you've learned how the basic crochet skills, you need to learn how to crochet in the round to make hats, toys and eventually garments such as sweaters. When crocheting in the round, you do not have to turn at the end of the row but rather crochet continuously until the piece is complete. The two techniques for crochet in the round are a crocheted tube and a crocheted circle. Learn more and watch videos here.
Use the skills of crocheting a tube to make Crochet Candles, filled with scented potpourri. This is a great and simple Christmas crochet idea.

Our Favorite Crochet Pattern for Crochet in the Round: Crochet Candles
Take your medium-size hook and medium-weight yarn.

Use an empty Pringles can or a similar, cylindrical container as a base.

Tie your yarn to the hook with a slip knot.

Make a foundation chain to fit snuggly around the can. Remember, you join the ends of the foundation chain together with a slip stitch: insert the hook into the loop of the first chain next to the slipknot, yarn over, and full the yarn through both loops on the hook.

Single crochet in each chain around the container.

Continue to sc continuously around the cylinder in a tube until completely covered.

Fasten off and weave in yarn tail.

Fill the container with potpourri.

Make several of differing heights to place together for an interesting display.
More Free Crochet Patterns:

Broomstick Afghan

Furry Pal

How to Crochet a Granny Square

Favorite Free Granny Square Crochet Projects

Crochet Towel Holder Rings

Your Recently Viewed Projects
Images from other crafters

Love these projects? Get MORE delivered to your Inbox – FREE Click Here!

Report Inappropriate Comment
Are you sure you would like to report this comment? It will be flagged for our moderators to take action.
Thank you for taking the time to improve the content on our site.